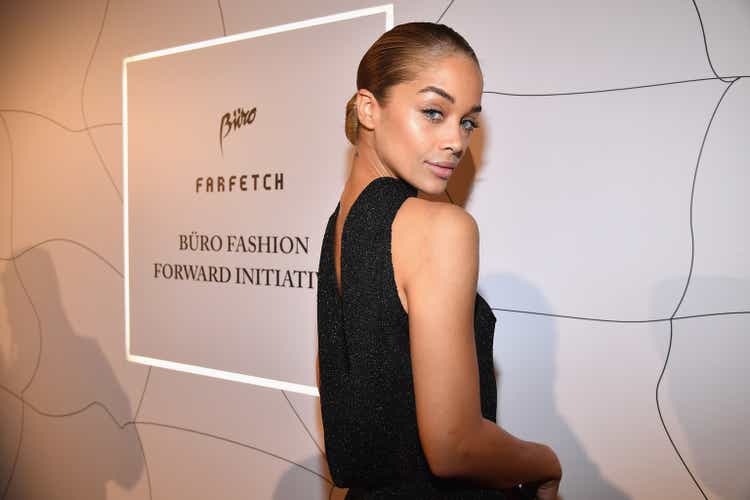 Farfetch (NYSE:FTCH) has seen a complete collapse in its stock price over the past year while the luxury brands continue to perform well, especially amidst a larger stock market rout. Louis Vuitton (OTCPK:LVMUY), Hermés (OTCPK:HESAY) and Richémont (OTCPK:CFRUY) have held up well and even Kering (OTCPK:PPRUY) has held up much better than Farfetch.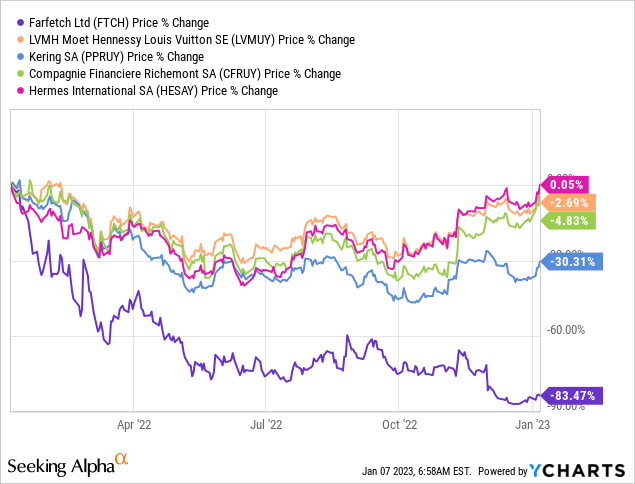 The divergence in stock performance can be largely attributed to a similar divergence in revenue growth. While many of the luxury brands continue to chug along, Farfetch seems to have hit a roadblock. The question now is whether this is temporary (i.e. not company specific but more as Covid-19 restrictions eased, shoppers are going back to in-store methods of buying thus taking a temporary 'break' from shift to online) or permanent (i.e. shoppers prefer in-store shopping experiences and even those that shop online, do so on brands' own websites).
| | |
| --- | --- |
| Brand | Q3 22 Revenue Growth |
| LVMH | 28% (20% organic) |
| Kering | 23% (14% at constant currency) |
| Hermes | 32% (24% at constant currency) |
| Burberry | 11% (5% at constant currency) |
| Prada | 1H 22: 22% |
| Farfetch | 2% (adjusted revenue) – 3P digital platform revenue increased $1 million YoY ($185 to 186 million) |
My deep dive on Farfetch will be done in 2 parts:
Farfetch's main business (3p marketplace for luxury brands) has serious and permanent obstacles (as seen in the troubling trend in revenue growth):

Luxury shopping not translating as well to e-commerce (relative to other retail); and
Luxury e-commerce does not favor the marketplace aggregator approach but is instead happening through the large individual luxury brands.

Evaluating Farfetch's future:

Thriving as a 3p marketplace for smaller and niche luxury brands;
Technology solutions provider for luxury brands;
Future of its 1P business and the strength of its 1P brands; and
Other high margin add-ons (e.g. advertising).
Farfetch's 3p marketplace business
Farfetch's 3p marketplace business is an e-concession business (as opposed to wholesale) where Farfetch takes no inventory thus allowing brands full control on pricing and supply. It is akin to a supermarket renting out 'space' to a brand where the brand has full control of what it sells, how it sells and how much to sell for. The supermarket (Farfetch in this case) will also take care of payments and in exchange, it will either take a fixed rental fee or a cut on goods sold. For Farfetch, it takes a cut on goods sold – a take rate of ~32% (vs 40-50% in a wholesale approach thus brands also prefer e-concessions).
Farfetch's 3p marketplace customers can be broadly categorised into 2 types:
Luxury brands such as Burberry (onboarded in 2018) and Ferragamo (onboarded in 2022); and
Multi-brand stores which serve as wholesale distribution channels for luxury brands such as Harvey Nichols (2018) and Neiman Marcus (2022).
Importance of the in-store experience to luxury shopping (headwind for e-commerce)
McKinsey and Company's survey on luxury Japanese buyers ring true for the luxury market in general, "a majority of consumers in the Japanese luxury market say they still prefer to shop in person…. the offline experience and sales associate (SA) relationship remain as important as ever".
This is quite logical to me, after all, you're paying exorbitant prices, you want to also be treated like a VIP. The table below summarises some of the main differences between the in-store and online luxury shopping experience.

These sentiments are also echoed by luxury brands.
We see the future being two things: being mostly retail stores, because the client experience in a retail store cannot be matched easily online. As of today, I mean, no one has found the sort of miracle formula that would enable clients to enjoy as much online… they get a lot of information [on the website which they could have bought from], but they come to the store because the store experience is something that cannot be matched on the internet

Source: Louis Vuitton
I believe that the continued preference towards the in-store experience is because in-stores experiences still cannot be matched in 2 key ways – the interactions between SAs and in-store customers as well as the store itself, which are deliberately designed and differentiated to provide a unique experience. This is of course not even mentioning that when a buyer pays luxury prices, they want to be able to try out what they want to buy in real life, to ensure quality and how it looks on them, before buying.
Sales Associates (SAs) have always been important to the in-store experience, in-charge of making customers feel like a VIP (e.g. by answering questions, providing recommendations etc.). According to Vogue Business, the "role of the in-store luxury sales associate has expanded [since post lockdown] to include brand ambassador, micro-influencer and stylist." The interactions between SAs and customers have only grown, something that will be hard to replicate online.
Continued differentiation of stores by incorporating unique elements, particularly art, into the actual store design. According to LVMH's approach to the art of retail,
The stores of LVMH Maisons seek to elevate reality, to connect with true emotions and encourage time for contemplation… art in retail spaces sparks emotion while instantly transmitting the values of the Maison.

Guerlain stores, for instance, have always been designed as truly unique showcases thanks to the artists and artisans who craft them.

Stores are also in locations and uniquely designed to showcase the cultural history of brands. For example, the new Maison Louis Vuitton Vendôme on Place Vendôme brought together two 18th century private mansions, located near the very first store opened by the trunkmaker Louis Vuitton himself in 1854. Among the legendary models and contemporary collections now on display are creations signed by Stephen Sprouse, Rashid Rana, Farhad Moshiri, Annie Morris, Kimiko Fujimura and others.
Thus, even as online share of luxury sales will continue to grow, it will remain far below offline sales (see below). Even as brands build out their e-commerce operations, they also continue to open new stores and upgrade existing ones.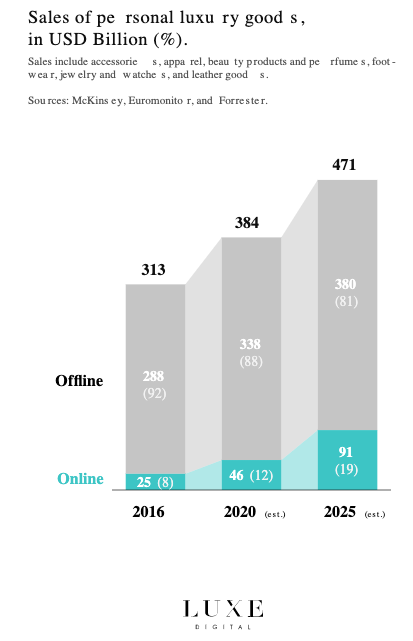 Growing strength of the monobrand e-commerce approach relative to marketplace aggregator
While Covid-19 was a temporary boon for Farfetch, in hind-sight, it might prove to be an unfortunate long-term negative by forcing luxury brands to dive into e-commerce. Brands were "forced" to abandon long-time reluctance to sell online (e.g. Chanel had previously said "Fashion is about clothing, and clothing you need to see, to feel, to understand") and quickly established their own digital presence. Luxury brands now place greater importance on the need to sell online hence are no longer cent to depend on marketplaces like Farfetch but have established their own their own e-commerce presence. Doing so allows them "to keep the control they require over their brands' digital marketing and pricing and their purchasing relationships with clients". (Source: Deloitte's Global Powers of Luxury Goods 2021 Report)
Maintaining direct purchasing relationships with clients is very important for brands to cross-sell/up-sell customers as well as to provide them with a personalised approach. This is something that brands will want to keep and not give up to marketplaces. As such monobrand sites will continue to gain share again marketplaces (seen below).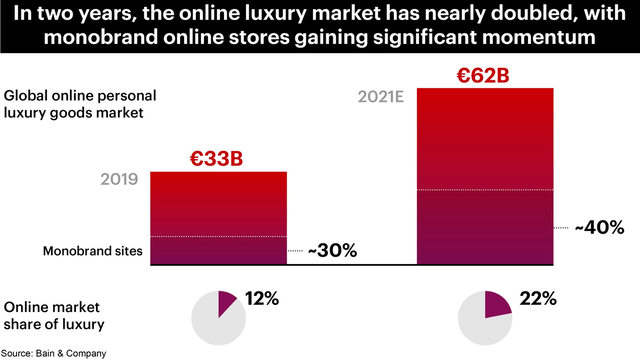 In particular, large luxury brands do not require the key benefits of being a part of a marketplace aggregator, thus will see paying a 30% take-rate to be unnecessary.
Aggregate demand to bring in buyers by allowing them to discover the brand and its products. For example, when a shopper goes to Amazon to buy a product, they may be looking for a product like a pair of scissors but be brand agnostic a priori. On the other hand, it is rare for a luxury buyer to be looker for a handbag and brand agnostic a priori. Buyers often know what brand they're looking for and even what specific product of that brand they're looking for thus taking away this important benefit that selling on marketplaces provides. Just take a look at the website visits of different luxury brands compared to Farfetch. In particular, the bigger brands such as Louis Vuitton, Dior, Chanel, and Gucci are individually by themselves generating traffic numbers that are not very far off from Farfetch (see below table). For these large luxury brands, partnering with Farfetch may not offer significant upsides, they have instead stuck with partnering marketplaces possessing significant reach – for e.g. Louis Vuitton partnered with China's JD.com (472 million annual active customers) while 200 brands from LVMH, Kering, Chanel, Hermes and Richemont are on Alibaba's Tmall Luxury Pavilion (Tmall has 500 million users).
| | |
| --- | --- |
| Website | Site Visits (Dec 22) from SimilarWeb |
| Farfetch | 38 million |
| Net A Porter | 8.6 million |
| Louis Vuitton | 20 million |
| Dior | 20 million |
| Chanel | 14 million |
| Gucci | 13 million |
| Hermes | 8.8 million |
| Prada | 7 million |
| Tiffany | 6.5 million |
| Cartier | 4.7 million |
Take care of the e-commerce operating system and logistics backend which requires large fixed costs. Marketplaces like Farfetch and YOOX Net-a-Porter provide luxury brands with services such as handling customer service, express global delivery, fashion consultants for buyers, etc. However, for large brands with significant demand, they have the customer base needed to make the necessary investments into establishing their own e-commerce operations. This allows brands to embrace an omnichannel strategy that luxury shoppers seem to enjoy. McKinsey found that Japanese luxury buyers "see online channels as a complement to the offline experience… research, evaluate, and in some cases, purchase luxury products online". More than 30% of respondents say "they compare products, pricing and reviews on e-commerce platforms… shoppers still visit a brand's official website above all others."
Farfetch's 3p marketplace: where it stands in the luxury eco-system
Farfetch projects that its 3P marketplace revenue will be $1.1 billion, about $400 million more than its current annualised ~$700 million run-rate (about a 16% 3-year CAGR). With a 72% gross margin profile, it's clearly a good business but the question is whether it can return to growth.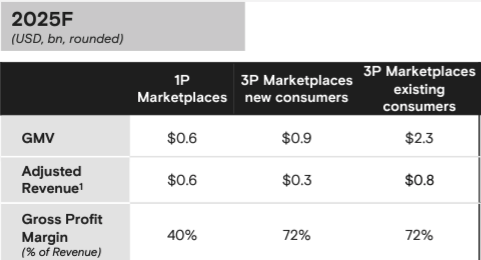 It would be unfair to say that there is no value to Farfetch's reach and customer base, after all brands such as Burberry and Ferragamo and multi-store department stores are on Farfetch's platform. It seems that middle size and smaller brands with lower organic traffic benefit from Farfetch's distribution prowess (i.e. its 4 million active consumers worldwide). I firmly believe Farfetch should focus on middle and small luxury brands which don't have the same reach as the larger brands and lack the demand/size to build out a global e-commerce operations.
Farfetch provides even more value for even smaller brands that currently lack a truly global operations. For example, brands that sell through Farfetch will now have access to the Chinese market through Farfetch's partnership with Alibaba's Tmall Luxury Pavilion (this is also true vice versa, bringing Chinese brands to a global audience). Farfetch currently has 3,000 small and independent brands and 700 independent boutiques on its marketplace.
While there will be a space for Farfetch in the luxury eco-system, it must be noted that the luxury space is extremely top heavy. According to Forbes, 7 brands alone control 1/3 of the personal luxury goods market and these large brands' online operations will continue to be dominated by its own monobrand websites. Thus, in terms of whether Farfetch's 3P marketplace can return to growth, I think this would have to be a prove-it year where it shows that it can continue to acquire new customers but also have the type of supply that customers want. However, at an enterprise value of ~$2 billion (~3x 2025 3P marketplace gross profits), you would be getting a decent value to wait.
Editor's Note: This article discusses one or more securities that do not trade on a major U.S. exchange. Please be aware of the risks associated with these stocks.