Another year is in the books, and with 2022 officially in the rearview mirror, it's time to look ahead. Plenty is on the sports docket for '23, with a new year set to usher in new champions, underdogs and surprises. 
The closer we inch toward January, the more the unknown comes into view. In honor of the new calendar, Sports Illustrated's writers are peering into their crystal balls to make bold predictions for what awaits this upcoming year.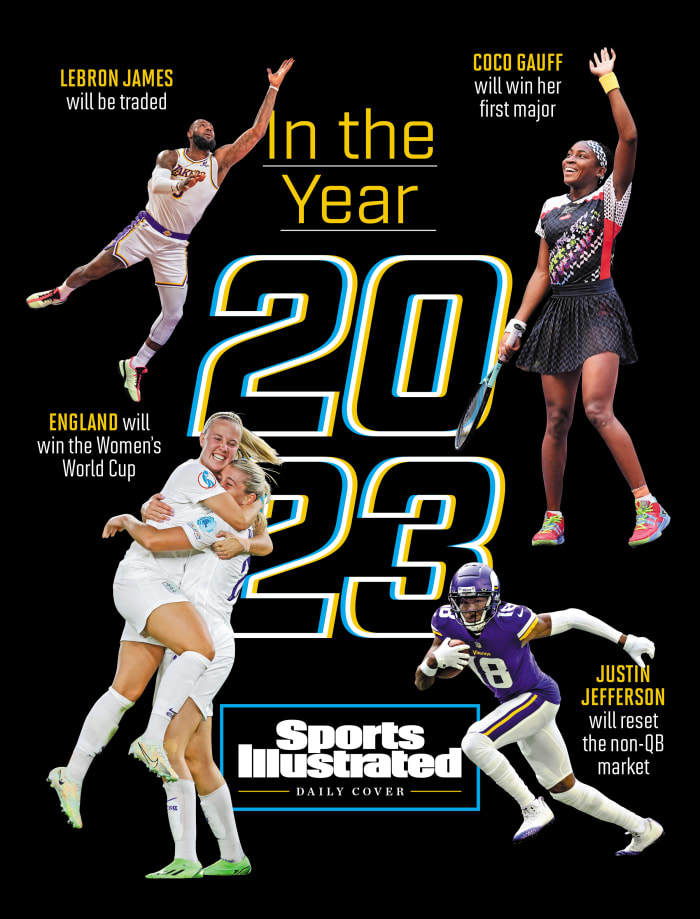 ---
1. Georgia Will Win the College Football National Championship
It has to be Georgia, doesn't it? These Dawgs are different from last year's squad, with a comparably worse defense that just so happens to still be the best in the country. The team's underrated offense remains excellent, largely due to quarterback and Heisman finalist Stetson Bennett, who has so rarely wavered and has the Dawgs set to finish with a second straight championship. —Richard Johnson
---
2. LeBron James Will Be Traded
Let's face it: LeBron James's decision to extend his contract with the Lakers was a mistake. It was a mistake for James, who doesn't need the guaranteed cash, pushing his deal through 2023–24 limited his leverage. It was also a mistake for L.A., which didn't have the pieces to build a title contender around James and (this season, anyway) doesn't have the flexibility to do anything with him.
In an ideal world, the Lakers use the cap space created by Russell Westbrook's exit next summer to sign Kyrie Irving or Draymond Green, flip a draft pick or two and vault back into contention next season. But if that doesn't happen, can the Lakers really go into 2023 with James, Anthony Davis and whatever group of castoffs they can assemble around them? Would James want to? Dealing James would take some chutzpah, but if L.A. whiffs on big-ticket items next offseason, is there really a better choice? —Chris Mannix
---
3. NFL Long Snappers Will Join the Labor Revolution
The labor movement comes to the niche world of NFL long snapping when several veteran free agents with strong NFL players' union ties, such as the Patriots' Joe Cardona and the Seahawks' Tyler Ott, flex their collective bargaining power to help salaries rise at the position, leading to the shattering of a significant glass ceiling in the form of … drumroll please … the first $2 million long snapper. —Alex Prewitt
---
4. The NBA Will Adopt a New CBA—Without Any Drama
We've had 11 years of labor peace since the nasty lockout of 2011. That streak isn't ending now, despite whatever posturing you've heard about a "hard" salary cap and other obnoxious CBA verbiage. The fact is, the league is in fantastic shape, both competitively and financially, and it would be a terrible idea to risk a lockout (or strike) now, especially with a fat new media-rights deal on the horizon. Also, the league (under commissioner Adam Silver) and the union (under executive director Tamika Tremaglio) are now led by diplomats, not pugilists. They'll find a way to extend the current deal with some notable changes they both want (e.g., abolishing the draft age limit). —Howard Beck
---
5. The Bills Will Win the Super Bowl
For Bills fans, 13 seconds probably seemed like just another brick in the wall—stacked right there with the inability to build around O.J. Simpson in the 1970s, the four straight Super Bowl losses by the greatest teams in franchise history and the post-'90s ineptitude. But what if that's not what it was? What if it was a sign that the current group was going to be even better than the beloved teams of 30 years ago? What if going through that, and the Hail Murray two years ago; and the wind debacle against New England and the first-half no-show in Tampa last year; and the weird, blizzard-affected 12-day stretch of road games this year was just buildup for the biggest win for any team ever in western New York? I actually think, for the Bills, it will be. Give me Josh Allen, Stefon Diggs and the rest of them to win the whole damn thing. —Albert Breer
---
6. Coco Gauff Will Win Her First Major
The tennis salon did an admirable job of sparing Coco Gauff the hype so often conferred on prodigies, so many of whom drown in a sea of it. But Coco is now 18—and carries herself like someone 10 years older. And she's up to No. 7 in the world in singles and No. 4 in doubles. It's now at the point where it feels like a breach of duty NOT to mention her bottomless potential. And so it is we say: 2023 is the year she will complete her breakthrough and win her first (and not last) major. —Jon Wertheim
---
7. Kevin Durant Will Demand a Trade (Again)
What, you thought everything was peachy in Brooklyn after KD rescinded his last trade demand? All that did was buy the Nets a little time. But, despite this hot streak, this team is too flawed and fragile to win a title next spring, and it's a near-certainty it'll let Kyrie Irving walk in July. So what would Durant be staying for? —Howard Beck
---
8. The Giants Will Pursue a High-Profile, Free-Agent Quarterback
Daniel Jones is good. And often, he's been good enough. But this team and this coaching staff are too talented to just be middling, especially in a division with Dak Prescott and Jalen Hurts. Lamar Jackson, should he be franchise-tagged, could possibly be had for a package of picks and a new contract. Keep that in mind. —Conor Orr
---
9. The NBA Will Announce an Expansion
O.K., I can't imagine that teams will actually be added anytime soon, but I believe that the announcement, per little more than an educated guess, is coming. Which would mean that Seattleites—myself included—would likely land a franchise to replace the beloved SuperSonics. Hey, one can dream, right? —Greg Bishop
---
10. The Bruins Will Win the Stanley Cup
Unbeaten in an NHL-record 14 straight home games to start the 2022–23 season, the Bruins never lose steam en route to claiming both the Presidents' Trophy (best regular-season record) and the Stanley Cup, making them the first dual winners in a nonlockout season since the '07–08 Red Wings. It takes six hard-fought games, but ultimately David Pastrnak, Brad Marchand & Co. take down Edmonton and Connor McDavid in the final, spoiling Canada's chance to end a nationwide championship drought that now stands at three full decades (last winner: Montreal in 1993). But, hey, there's always next year, eh? —Alex Prewitt
---
11. Justin Jefferson Will Reset the Non-Quarterback Market
This run has been cute for the Vikings. But soon they'll realize the price tag that is coming with it. Tyreek Hill is making $30 million per season with a little more than half of the deal guaranteed, while Cooper Kupp is making about $26 million annually, with almost the entirety of the deal guaranteed. If I were Jefferson, I wouldn't step on the field for less than $33 million per year at the same rate of guarantee that Kupp is getting. —Conor Orr
---
12. The Luka Dončić Trade Watch Will Become a Thing
Dončić can't become a free agent until after the 2026–27 season, you say? Well, we are just a few months removed from Kevin Durant demanding a trade before his freshly signed four-year extension kicked in, so anything is possible. Dončić is a dominant force and a top-five candidate for MVP, but he is a one-man band in Dallas, which has not supplied him with enough help to make you believe last season's run to the conference finals was more than a fluke. This season appears to be going nowhere and if it does—and if the Mavs can't add a significant piece next summer—any whispers about Dončić looking to relocate could get louder. —Chris Mannix
---
13. The Pistons Will Win the Top Pick
The Pistons will win the top pick and become an Eastern Conference power by 2025. It would make all too much sense if the Pistons grow strong again while the Celtics and Cavaliers are right near the top of the East. And that could be the reality if Detroit—without Cade Cunningham for the rest of the season and giving plentiful reps to rookie Jaden Ivey and the suddenly improving Killian Hayes—lands the top pick. With Victor Wembanyama, the Motor City would have one of the most formidable young trios, and that'd be on top of Isaiah Stewart, Saddiq Bey (who's come up in trade rumors lately) and Jalen Duren, the league's youngest player and one who has an incredibly bright future. —Chris Herring
---
14. Victor Wembanyama Will Be June's No. 1 Pick
Victor Wembanyama will be the No. 1 pick come June. For some reason I feel really good about this one. Not sure why. —Jeremy Woo
---
15. South Carolina Will Repeat As National Champions
This is the predictable answer, because it seems inevitable: South Carolina will repeat as the women's basketball NCAA champions in 2023. The Gamecocks will surely face some adversity during SEC play in the months to come, but Dawn Staley's squad—one that features reigning National Player of the Year in Aliyah Boston, along with Zia Cooke, Brea Beal, Laeticia Amihere and new faces like Ashlyn Watkins and Kierra Fletcher—is primed to repeat. —Wilton Jackson
---
16. Houston Will Cut Down the Nets
It's all coming together for the Cougars in 2023. Houston has been an excellent defensive team under Kelvin Sampson and now has the top-end talent to go with its elite scheme. Point guard Marcus Sasser is among the nation's best players, and freshman Jarace Walker could be a top-10 NBA draft pick. Plus, the 2023 Final Four is in Houston! —Kevin Sweeney
---
17. Aaron Judge Will Narrowly Miss Hitting 50 Home Runs
It's a good over/under, because I think he'll come close, but it's hard to hit 50 home runs—Aaron Judge himself has done it only twice in five full seasons—and even two weeks on the injured list would make it much harder. —Stephanie Apstein
---
18. The Clippers Will Win the Western Conference
With due respect to Zion and the Pelicans, CP3 and the Suns and every other would-be Western Conference contender, I'm buying in on the Clippers. Kawhi Leonard has played in nine of L.A.'s last 13 games this month, a veritable ironman streak for one of the NBA's most fragile stars. John Wall is healthy. Paul George will be, too, and Ivica Zubac is playing like an All-Star. Everything is contingent on Leonard's knee holding up, but if it does, this team won't just beat everyone in the West—they might blow right through them. —Chris Mannix
---
19. No, Actually, the Grizzlies Will Win the Western Conference
As we look at the convoluted standings in the Western Conference, with the Warriors and Lakers currently outside of play-in positioning and without their MVP candidates for a while and the surprising Jazz and Kings solidly in the hunt, things have been extraordinarily strange. But one thing makes sense: The Grizzlies are showing that last year was anything but a fluke. They're a great bet to come out of the West if they're healthy. —Chris Herring
---
20. Rory McIlroy Will Win the Masters
In golf, form is fleeting and predicting it is perilous. But Rory McIlroy's game has been on point for the better part of the last year. Why can't he keep it going into April and win the Masters?
The No. 1 player in the world has had his share of disappointment at Augusta National, where most recently, he closed with a 64 in the 2022 event to finish second to Scottie Scheffler. But including that tournament, McIlroy, 33, played in 16 worldwide events through the end of the year. He won three times, finished top-five nine times and top-10 in three others.
McIlroy has been playing at a high level for a long time. He'll keep it going and finally gets his long-anticipated green jacket. —Bob Harig
---
21. No, Actually, the Nuggets, not the Clippers or Grizzlies, Will Win the NBA Finals
The Nuggets will take advantage of a superteam vacuum at the top of the NBA and win the Finals. Nikola Jokić is playing at an MVP level for the third straight season, and the team finally has the requisite depth to win in the playoffs thanks to the returns of Jamal Murray and Michael Porter Jr. In a season so far defined by parity, the Nuggets have the trump card in the Joker. —Rohan Nadkarni
---
22. Bo Nickal Will Claim a UFC Belt
When Bo Nickal was named Big Ten Athlete of the Year for 2019, he was a Penn State wrestler who won early and often and looked to be in line for Olympic gold. That didn't happen, but Nickal might be more impressive in another sport. A UFC middleweight, Nickal has been doing the Tyson-in-the-1980s thing, demolishing opponents, packing suspense not into if he'll win, but into how (and how soon). He fought three times in '22 and spent a combined 2:27 in the Octagon. The UFC will feed this torrential talent a steady diet in '23, and by year's end, he'll have a belt. —Jon Wertheim
---
23. Shohei Ohtani Will Win the American League MVP
The wonder never ceases. One potential wrinkle: If the Angels fall out of the playoff race (again), Shohei Ohtani could be traded midseason to the Dodgers in the NL, opening the door for Julio Rodríguez or Adley Rutschman to win the AL award. —Tom Verducci
---
24. Trea Turner Will Win the National League MVP
Turner has been a down-ballot candidate for the last three seasons, but in his first year on a new megacontract in Philadelphia, let's put him down to win it in 2023. His power-speed combo remains rare: Even if he doesn't steal quite as often as he once did, he's still a serious threat on the base paths, and the new rules should only incentivize more of that. (With 27 steals and 21 homers in '22, he had the most stolen bases of any player with more than 20 home runs.) Plus, in Philly, he'll be reunited with his former hitting coach, Kevin Long, whom he credits with helping to unlock his offense while in Washington. It could be a perfect storm of factors for his best season yet. —Emma Baccellieri
---
25. England Will Win the 2023 Women's World Cup
Surprised not to see the U.S. here? The USWNT remains heavily in the mix, and arguably is the presumptive favorite as a two-time defending champ. But we're going with an England group that has broken through under manager Sarina Wiegman, who previously led the Netherlands to the tournament final. The reigning European champion Lionesses will be a tough out. —Molly Geary
---
26. Kyrie Irving Will Finally Become a Laker
The Nets seem content to finish this season with their current core, including the perpetual distraction in the No. 11 jersey. But this is now an all-or-nothing campaign. Unless the Nets win it all, it's hard to see them re-signing Irving next summer. It's also hard to see much of a market for him, given his recent history. We do know LeBron James would welcome a reunion, though. —Howard Beck
---
27. The Giants Will Make a Surprising Playoff Run
This feels impossible right now since the Giants just lost their two most coveted free agents in a crushing 14-day span, but the new, balanced schedule helps them see the Dodgers and the Padres less often, and they could sneak into a wild-card spot. —Stephanie Apstein
---
28. Rafael Nadal and Venus Williams Will Retire
The tennis retirements will keep coming. In 2022, Serena Williams and Roger Federer—both 41; she, the winner of 23 majors; he, 20—declared game/set/match on their numinous careers. Sadly, if inevitably, this golden age will continue flaking. Rafael Nadal will turn 37 in June and speaks openly about his dwindling days. Venus Williams is 42 (!) and is nearly 15 years removed from her last major win. We distinguish between sports mortals and deities. Time does not. —Jon Wertheim
---
29. The Kings Will Make the Playoffs
I repeat: The Kings, that cursed franchise in California's capital, will make the playoffs! In the NBA! This spring! I know this doesn't seem like a very ambitious prediction, with the Kings firmly in playoff contention, but that ignores all the other moments of fleeting hopes and false promises since 2006 (their last time in the postseason). That record drought ends in April, even if it means getting in via the play-in round. Light the beam! —Howard Beck
---
30. The Padres Will Beat the Astros in Seven to Win the 2023 World Series
The wild spending spree that has put Fernando Tatis Jr., Juan Soto, Manny Machado and Xander Bogaerts at the top of the lineup pays off with the franchise's first world championship—and just in time before Machado opts out of his contract and Soto goes on the trade market before his walk year. —Tom Verducci
---
31. An NBA Team Will Trade Into Losing
The much-ballyhooed tank race happens, and at least one team aggressively trades into losing. Just give it a little more time. The Jazz, Thunder, Raptors and Bulls are among the teams I'm watching closely. —Jeremy Woo
---
32. Sean Payton Will Return to the Broadcast Booth
Despite the mounting rumors that Payton will steal away a job, potentially in Los Angeles where desired, it may be too much of a price for fellow owners to pay. Economically, some teams, like the Vikings and Dolphins, have had franchise-altering success with younger coaches on (relatively) small contracts and less power organizationally. At this point in time, is the appetite really there for an owner to fork over a Belichickian deal? —Conor Orr
---
33. Karl-Anthony Towns Will Be Traded
It can't happen until July 1 (due to CBA rules), but it will happen, barring some miracle turnaround in Minneapolis. Towns has been the Timberwolves' centerpiece for nearly eight seasons now. They've made the playoffs twice and have been bounced in the first round both times. The Rudy Gobert trade was supposed to fix things. It hasn't. The T-Wolves can command a small ransom for KAT and use the pieces to rebuild around Gobert and Anthony Edwards. —Howard Beck
---
34. New NFL Playoff OT Rules Will Cause Chaos
In the coming weeks, the world will get its first glimpse of the NFL's new overtime rules, which were instituted last offseason, but only for the playoffs. Now that both teams are guaranteed possession at least once, some enterprising and open-minded coach will win the coin toss but defer and give his opponent the ball first, only to watch it blow up in his face in spectacular fashion. The debacle—with many people pointing to numbers declaring it was the right decision even though it didn't work out—will ignite a fresh round of debate about whether this is the best way to settle a football game, keeping members of the competition committee busy yet again at the league's offseason meetings. —Mitch Goldich
---
35. Stefon, Trevon Diggs Will Face Off in the Diggs Bowl
Facing off in the NFL's first sibling-on-sibling, WR1-vs.-DB1 matchup next season, Bills wideout Stefon Diggs burns his little brother to the tune of six-plus catches, 100-plus yards and a first-half touchdown, much to the delight of the home crowd in Buffalo, but Trevon emerges with ultimate household bragging rights in the form of a critical red zone interception to seal a Dallas victory. —Alex Prewitt
---
36. The Lakers Will Make a Trade
The Lakers will make a trade but pull the trigger too late for it to matter. If you'd been tasked with guessing the Lakers' two most likely problems heading into the season, it wouldn't have been surprising if you'd landed on the lack of perimeter shooting, and the fact that Anthony Davis was likely to suffer an injury that keeps him shelved for significant time. Both those things have come to pass, with Los Angeles's shooting dreadfully from deep, and Davis's being out for at least the next month or so. I'd guess the Lakers will try something via the trade market at some point. (Maybe it's the aforementioned LeBron trade, maybe it's something else.) But if they do, it'd almost be disappointing that they waited so long. 
This club had the potential to be good, perhaps even really good, at full strength, particularly with Davis dominating the way he was. But the likelihood of them doing so in the top half of the West's playoff race has been out of the question from the beginning of the campaign, and it didn't feel like things had to be that way. —Chris Herring