Philadelphia – Temple University has responded to a letter from a student urging the school to tackle the rise in crime plaguing its North Philadelphia campus.
The letter, posted on the Instagram page Keep_Us_Safe_TU, accused the university's president, Jason Wingard, of being a silent leader.
"We don't want him to come out and talk to our account," John Mangan said.
Mangan, a fourth grader at Temple, created an Instagram account this semester. This is a way to call for transparency from school leaders while alerting students and their families to crimes occurring in real time.
"We're at a tipping point where everyone is wondering what the heck is going on," Mangan said. "It's really getting out of hand."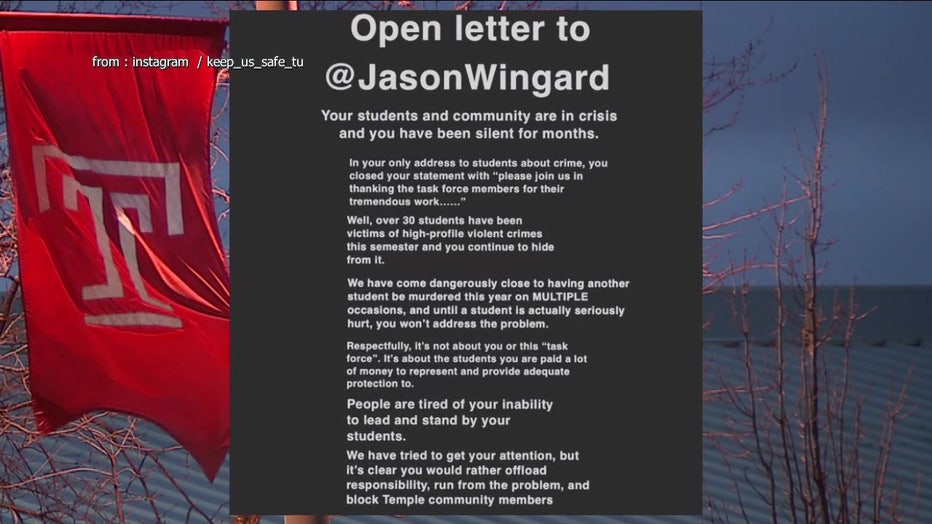 Fed up with crime on and off campus, Temple students wrote letters to school leaders urging them to do more.
Police say three people, including a teenage girl, were shot dead last weekend when gunmen kicked open the front door of a house near the Temple University campus and opened fire. This comes weeks after Temple University students were targeted in a series of armed home invasions.
A statement from Temple University said in part: "The importance of open letters like this from the very students the university serves has not been lost to us … To address this, the Office of the Chancellor has met with the Student Government of the Temple to I plan to meet with both TSG members and other students, and I will be a member of the student council in the near future."
Temple Junior Adam Pyser recently felt compelled to join the "Keep_Us_Safe_TU" account due to an increase in crime.
"We're on the right track. Something needs to be done," said Pycer.
Mangan said he has noticed an increase in calls from the Temple Public Security Bureau in recent weeks. His team is in the process of setting up a Zoom call with the principal to discuss progress, but would like to hear from school leaders.