Every corner of Mimi McGlasson Frances's freshly decorated Christmas home shimmered with glitter, but the most beautiful sight was her freezer. Each frosty shelf is lined with homemade appetizers like rosemary cashews, olive cheese balls, and meat pies, all carefully wrapped and promised warm flavors for the holiday season.
An exceptional hostess, Francesse is always ready to kick off the party with appetizers at home with family and friends or at a fundraiser for the Lafayette Museum Association for which she is vice-president. She recently shared one of her favorites, her baked her cheese petit fours.
Her explanation of the recipe for these little square delicacies made my butter-loving heart beat. "Old English spreads, butter, dill, and very thinly sliced ​​white sandwich bread from Pepperidge Farms. Nothing thicker," she said.
Does this taste the same as the toasted cheese my grandmother used to make when I was a kid?
"Do you want Beau Monde seasoning?" I asked, remembering this special ingredient that was the secret to my grandmother's recipe.
"Well, if we can find it," she replied.
Beau Monde is called an older version of the recipe used by Francez — a cheese soufflé sandwich in the "Cotton Country Collection" compiled by Junior League of Monroe. Elusive Beaumont Seasoning is his blend of trademarked spices made with just salt, sweetener, onion, celery seed and a pinch of anti-caking agent. Francez leaves it out because it's often impossible to find locally blended spices.
One element that should not be replaced or omitted is the Old English spread. Made in the 1950s, shelf-stable jar cheese was popular before the domestic cheese market diversified, thanks to improved technology and access to imported cheese. Grocery stores in southern Louisiana sell packages of small reusable juice jars (sometimes refrigerated, sometimes refrigerated) because they are a staple ingredient in local favorites such as spinach madeleines and crawfish fettuccine. (may not be) and can be found relatively easily.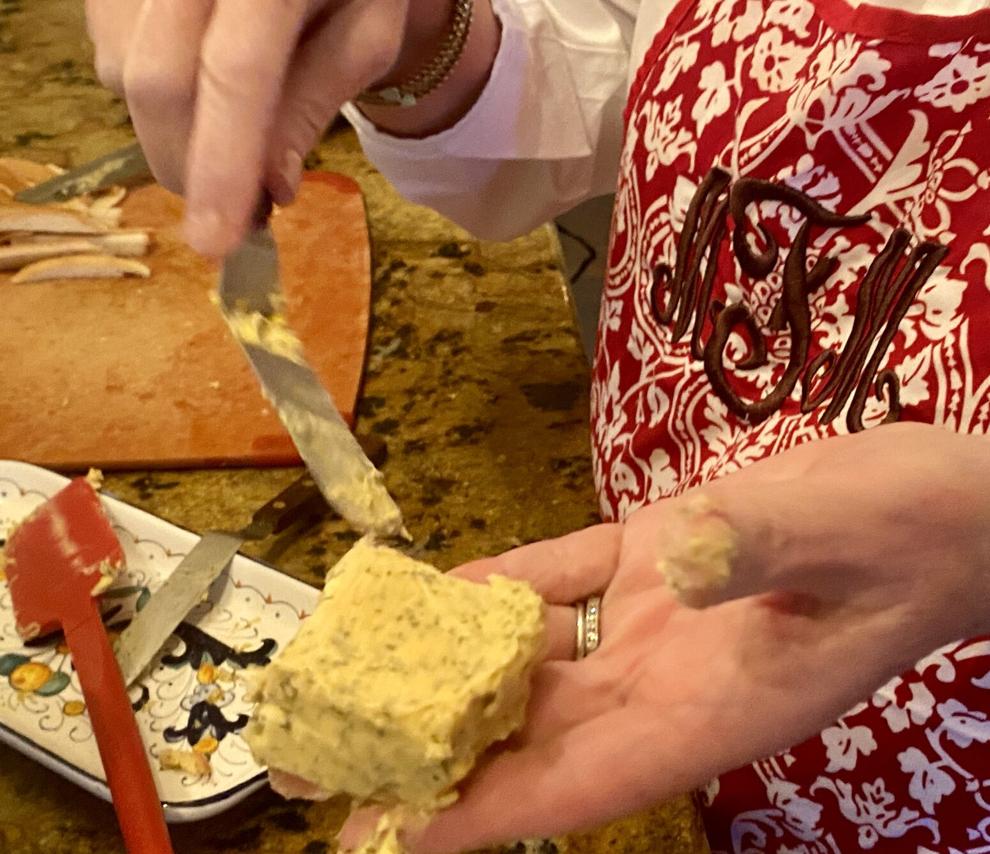 As each slice of bread was smeared with cheesy goodness, Frances recalled when she and a group of 20 junior league members made a batch of 400 cheese petit fours for high tea. The toasted appetizer was so well received that the Junior League decided to include a version of the recipe in its 2005 cookbook Something to Talk About under the new name Baked Cheese Petit Fours.
The process is messy — spread three bread slices with the cheese and butter mixture, stack them, crust them, cut them into quarters, and repeat. Cover the entire surface of each petit four with the icing-like cheese butter mixture, much like frosting a small cake.Francez and I quickly knocked out a small batch. Good conversation, soft Christmas music, and electric knives made our job easy and fun. (Plus, we both had experience with this game.)
A mouthful of piping hot oven-baked food brings back memories of my grandmother.
If this wasn't exactly her cheese soufflé sandwich, it was a very close one. Keep bringing joy.
baked cheese petit fours
15 servings
The recipe is based on "Something to Talk About" by Junior League of Lafayette.
2 5 oz jars Old English sharp cheese spread, soften
1 cup softened butter
1 teaspoon Tabasco sauce
1 tablespoon Worcestershire sauce
2 tablespoons dill weed
Onion salt 1/2 teaspoon
2 loaves of Pepperidge Farms very thinly sliced ​​white bread, trimmed crust
1/8 1/4 teaspoon paprika, enough to lightly dust the top of the petit fours (optional)
1. Mix cheese spread and butter in a mixing bowl until smooth.
2. Add Tabasco, Worcestershire, dillweed and onion salt and whisk until fluffy.
3. Spread cheese thinly on 3 slices of bread.
4. Stack the slices, align the edges as closely as possible, then cut the stack into quarters.
5. Spread the cheese mixture around the sides of each quarter like icing a small cake.
6. Repeat the process with the remaining filling and bread, and place the finished petit fours about 0.5 inch apart on a parchment-lined baking sheet.
7. Lightly sprinkle the paprika over the petit fours.
8. Place the petit fours baking sheet in the freezer for at least 1 hour.
9. Frozen petit fours can be placed in freezer containers or baked.
10. Bake the frozen petit fours in a preheated 350°C oven for 15-20 minutes or until lightly browned.