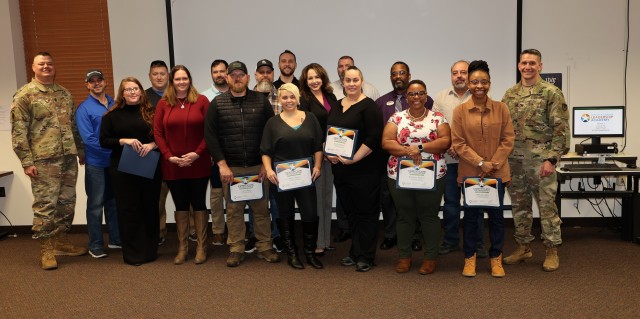 Fort Knox, Kentucky. — As members of the four teams made group presentations to their peers, sponsors, and Fort Knox Garrison leaders on December 8, they waited to be called by course manager Melinda Roberts.
Roberts called 16 students one by one to receive their certificates. The 16 private sector employees were nominated by their supervisors and approved by the director to attend the 8-week Fort Knox Garrison Leadership Academy fall session.
Attendees for this session include Shala LeMaster of MWR HQ, Chris Harness of MWR Bowling, Ambrea Sanders of DHR Education Center, Adrianos Polous of DPTMS Range, Casey Byrd of MWR Golf, Makayla Allen of MWR CDC, and Joe Russell of DPTMS Range. , including Becky Bronkema. Jay Johnson, DPW Recycle; Jay Johnson, MWR NSS; Bambi DeSpain, MWR CDC; Jason Wilson, DPTMS Range; Jack Hargis, DPW Utilities Plant; Kelly Frank, MWR ACS; Angela Murray and Ryan Pratt of DES Fire.
The Leadership Academy was established several years ago by Roberts and two others from the Morale, Welfare and Recreation installation as a way to provide employees who demonstrate leadership potential with the opportunity to learn and develop that potential. It was an invention.
The course consists of four lunch and learning sessions, each lasting 1.5 hours, and discussing specific topics. The other four sessions last throughout the day and cover a variety of topics including problem solving, personality assessment, self-awareness exercises, leadership styles, trust issues, effective communication, and how to handle difficult conversations.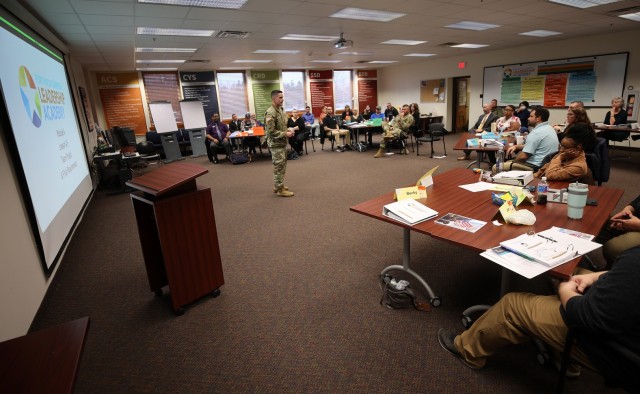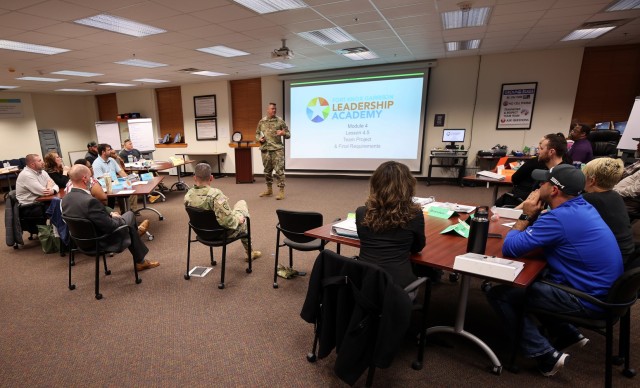 Installation crew development specialist and Academy instructor Laurie Micher says the information provides a great learning opportunity for potential leaders.
"It makes students better leaders," Maicher said. "I wish I had a class like this before I became a supervisor, because it's a lot of useful information."