Friday
Prisoner Wine Tasting: 6 p.m. Matherne's Downtown, 440 N. 3rd St. $40. Send an email to bill@mathernes.com.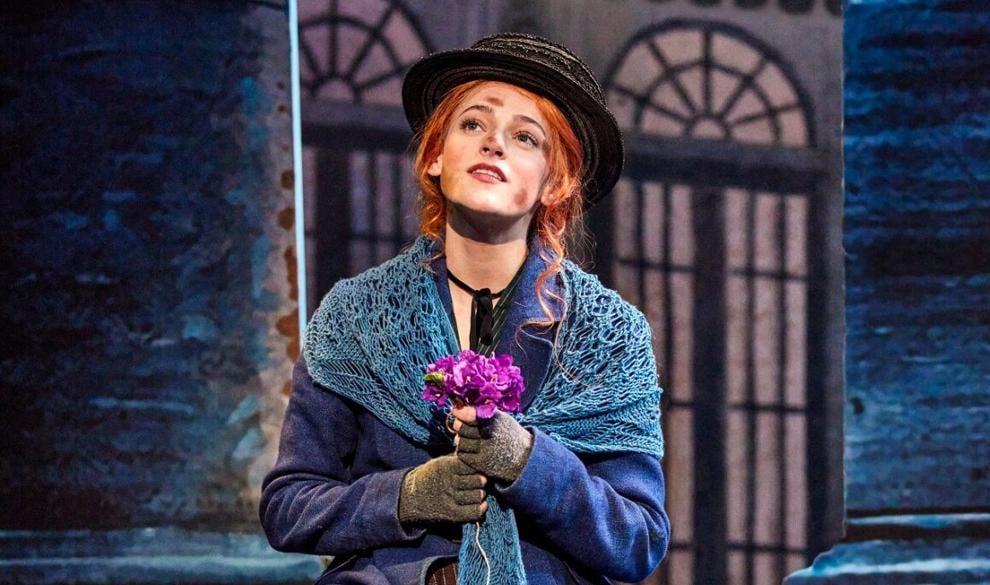 Plaza's Movie: "Home Alone": 7:00 p.m., Main Library Square, Goodwood 7711 Goodwood Blvd. Closed captioning is provided. Bring lawn chairs and blankets. ebrpl.com.
"LERNER & LOEWE'S MY FAIR LADY": Performs at 7:30 p.m., Raising Cane's River Center Performing Arts Theater, 300 St. Louis St. The Lincoln Center Theatre. $35 and up. Ticketmaster.com.
Holiday Brass: 7:30 p.m. Hemingbaugh, 10101 La. 965, St. Francisville. In the outdoor setting of a Greek amphitheater overlooking Lake Audubon, the Baton Rouge Symphony Orchestra's full brass and percussion play a favorite brass performance of the holiday. Conducted by David Tones. $30. brso.org.
Friday-Sunday December 18
"A Christmas Story: The Musical": 7 p.m. Friday. 2 p.m. Saturday and Sunday. Friday December 16th at 7pm. Saturday, December 17, 2:00 p.m. and 7:00 p.m. Sunday, December 18, 2:00 PM, Riley Theatre, Tower Drive, LSU Campus. Commander of Baton Rouge holiday productions. $21 for adults. $16, kid. (225) 578-6996 or playmakersbr.org.
A Christmas Carol by Charles Dickens: Friday, Saturday, Thursday, December 15th at 7:30 PM. Sunday 2:00 pm, Theater Baton Rouge, 7155 Florida Blvd. $27-$32. theaterbr.org.
Saturday
Baton Rouge Art Market: 8am to noon on 5th Avenue and Main Street downtown. Vendors selling a variety of unique and original works of art including pottery, woodwork, textiles, glass, paintings, sculptures, photography, handmade soaps, handmade toys, and jewelry. Artsbr.org.
Red Stick Farmers Market: 8am to noon on 5th Avenue and Main Street downtown. Agricultural products directly from the farm, products, cooking demonstrations, etc. panda.org.
North Baton Rouge Urban Farmers Market: 8am to noon, 5068 Airline Hwy. With local farmers and small businesses as its vendors, the new market's mission is to revitalize North Baton his rouge by encouraging entrepreneurship and providing residents with a place to shop within their neighboring communities. That's it.
Oasis Market: 9am-1pm, 13827 Coursey Blvd. Vendors selling produce, crafts, baked goods, and more. themarketattheoasis.com.
Stargazing: 10:00 am, Louisiana Art & Science Museum, Eileen W. Pennington Planetarium at 100 S. River Road. Learn about the stars and constellations in your local night sky, followed by an all-ages show. Included in regular admission fee. lasm.org.
Saturday Science: 1:00 p.m., Goodwood Main Library, 7711 Goodwood Blvd. "Why Are the Tropics Hotspots for Global Biodiversity?" Presentation by Professor Kyle Harms, LSU Department of Biological Sciences. For junior and senior high school students, faculty and staff, and the general public. free.
"Christmas house": 3pm and 7pm, UpStage Theater, 1713 Wooddale Blvd. Holiday Productions. $27. (225) 924-3774 or upstagetheatre.biz.
Cortana Kiwanis Christmas Parade: 5:30 p.m. downtown. Marching bands, celebrities, dance groups, nonprofits, local businesses. Start at River Road on North Boulevard, go to Convention, Fourth, Laurel, Sixth, North and end at Lafayette. Downtown Baton Rouge.org.
Mural presentation and reception: 6:30 p.m. Goodwood Main Library, 7711 Goodwood Blvd. Palacio's House of Arts presentation and dedication of "Ida: Be a Resilient Artist." Her 20-foot mural, which combines music and art, is permanently installed on her first floor across from the large conference room in her main library. The event also includes art exhibits by local children, concert presentations, door prizes, raffles, and refreshments. free. ebrpl.com.
Comedian Joe Gatto: 7:00 PM, Rays Canes River Center Performing Arts Theater. Tickets are $35-$55. Sourcing canesrivercenter.com.
Saturday and Sunday
Helen Brett Holiday Market: Saturday 10am-4pm, Sunday 10am-4pm Lamar Dixon Expo Center, Gonzales. $17.
"Holiday Nutcracker": Saturday 3pm and 5:30pm, Sunday 1pm and 3:30pm, Brown Holt Chapel Arts Center at Dunham School, 11111 Roy Emerson Drive. The Canjelosi Dance Project presents its annual Christmas production. $15-$25. cangelosidanceproject.com.
Sunday
Thursday
Red Stick Farmers Market: 8 a.m. to noon, Pennington Biomedical Research Center, 6400 Perkins Road. Agricultural products directly from the farm, products, cooking demonstrations, etc. panda.org.
Taco Trivia: 7pm, Three Roll Estate, 760 St. Philip St. facebook.com/threerollestate.
in progress
Baton Rouge Gallery Center for Contemporary Art: 1515 Dalrymple Drive. Artist members Anita Cook, Frankie Gould, Michael W. Howes and Isoko Onodera through Thursday, December 22nd.
Capitol Park Museum: 660 N. Fourth St. "Carnival in the Nation's Capital: Washington Mardi Gras Ball." (225) 342-5428 or louisianastatemuseum.org.
Carey Sourage Community Arts Center Shell Gallery: 233 St. Ferdinand St. "The Artist's Question: Answered in Fiber," a regional exhibition of Studio Art Quilt Associates, Inc. through Saturday, December 31st.
Elizabeth Gallery: 680 Jefferson Highway. The 'Autumn Art Show' featuring Carol Hallock and her other gallery artists runs through Saturday, December 31st. (225) 924-6437 or her Facebook page at The Gallery.
MANSHIP GALLERY: 100 Lafayette St. An exhibition of the work of New Orleans artist Becky Foss. His painting, "Spirit of Louisiana," was commissioned by his Secretary of State Kyle Ardoin of Louisiana as his artwork for the official "I VOTED" sticker for the November 2022 election. The show will run until Monday, January 2nd. Free. manshiptheatre.org/exhibit/becky-fos.
Lagniappe Dulcimer Association: Monday, 6-8:30 PM, Community Bible Church Fellowship Hall, 8354 Jefferson Hwy. Weekly jams; all acoustic instruments welcome. (225) 753-7917. lagniappedulcimerbr.org.
Louisiana Art & Science Museum: 100 S. River Road. "Wild Bees," featuring Paula Sharpe and Ross Her Eatman Photos, runs through April 30th at the Colonnade Gallery. "Diamonds of History: Mighty Women by Ashley Longshore" (through Jan. 29). "Pinpointing the Stars," Universe Gallery, featuring works from her permanent collection highlighting planetarium history, development timelines, and a focus on the stars through August 2024. Medical illustrator until August 6th. "Our Louisiana" until her January 14th. (225) 344-5272 or lasm.org.
LSU GLASSELL Gallery: Shaw Center for the Arts, 100 Lafayette St. "Protective Elements by Chris Marin and Wesley Chavis," through Friday, December 16. free. (225) 389-7180 ​​or design.lsu.edu/student-life/galleries/glassell-gallery.
LSU Hill Memorial Library: 95 Field House Drive. "Water, Water Everywhere: Control and Consequence in Louisiana's Coastal Wetlands," through Wednesday, December 21st. free. Visit lib.lsu.edu/special.
LSU Art Museum: Shaw Center for the Arts, 100 Lafayette St. "Mediterranean: American Art from the Graham D. Williford Collection." "Pearlware, Polish, & Privilege: Art by Paul Scott" runs through his February 26th. (225) 389-7200 or lsumoa.org.
Magnolia Mound Plantation: 2161 Nicholson Drive. Guided and self-guided tours. Hours of operation are Monday through Saturday from 10 AM to 4 PM and Sunday from 1 PM to 4 PM. www.brec.org/index.cfm/park/Magnolia Mound Plantation.
GOODWOOD Main Libraries: 7711 Goodwood Blvd. The Louisiana Art Guild show of his two-dimensional art through Friday, December 30th.
Old Government House: 502 North Blvd. Observation possible. Hours are Tuesday through Friday from 10am to 4pm. Free admission. oldgovernorsmansion.com.
Old State Capitol: 100 North Boulevard "Voices and Vote: Democracy in America," through Sunday. "The Boggs Family Legacy" through Friday, December 16th. free entrance. louisianaoldstatecapitol.org.
Red Stick Strummers: Dulcimer Jam Thursdays 10-11:30 am, Fairwood Branch Library, 12910 Old Hammond Highway. (225) 753-7917 or www.lagniappedulcimerbr.org.
Rosedown Plantation State Historic Sites: 12501 La. 10, St. Francisville. Christmas decoration in the style of the early to mid-19th century.
Southern University Visual Arts Gallery: Frank Hayden Hall, Southern Campus. "Malaika Favorite: Faces and Spaces" runs until Friday. Hours are Monday through Friday from 10am to 4pm. Admission is free. Call (225) 771-4109 or email randell_henry@subr.edu or randell.henry@sus.edu.
USS Kidd Veterans Museum: 305 S. River Road. "Furs, Feathers, Fidelity: Military Mascots" is a traveling exhibition through Saturday, December 31st.
Vanguard Gallery: In the studio of Stephen Wilson Stained Glass, 1469 Laurel St. "Winging It", through Friday December 30, a group art exhibition benefiting Bethany Center Primary School in Uganda. (225) 343-2211 or swsglass@gmail.com.
West Baton Rouge Museum: 845 N. Jefferson Ave, Port Allen. "Billy Holiday of Sugarhill: Photographs of Jerry Dantzick. Smithsonian Traveling Exhibition," through Jan. 7. "Angela Gregory: Doyenne of Louisiana Sculpture" runs until her August 7th. (225) 336-2422 or westbatonrougemuseum.org.