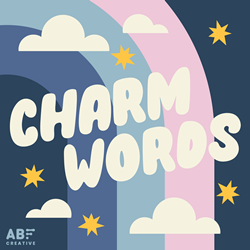 "Spanish is the second most spoken language in the world, and Latine is the fastest growing group in the U.S. So, we knew we had to launch Charm Words Español to reach more children and parents"

NEWARK, N.J. (PRWEB)
December 05, 2022
Audio tech content start-up ABF Creative is launching Charm Words Español, the first-ever Spanish-language daily affirmations podcast for children. Charm Words Español–which starts streaming December 5th, 2022–is an iteration of Charm Words, ABF's award-winning daily affirmations children's podcast.
Charm Words was ABF Creative's inaugural release in the company's mission to develop mindfulness content. The podcast offers family-friendly, psychologist-approved daily positive affirmations meant to teach children mental health and self-awareness tools such as combating negative thoughts, self-esteem, conflict resolution, and much more. "Through various resources such as curricular-based activities, each episode of Charm Words takes a holistic and creative approach to a mindset that promotes emotion management," says ABF Creative's CEO, Anthony Frasier.
The Charm Words series, streamed by over 20,000 co-listening families a month, is the first of many mindfulness podcasts expected from ABF Creative. The success of the popular podcast, and the launch of its Spanish-language counterpart, shows ABF Creative's potential as a leader in family audio content. Charm Words and Charm Words Español are prime examples of how ABF Creative is innovating and reimagining audio by creating content that fosters cultural and emotional impact. "Charm Words is the first of many. It's never too early to start teaching kids the power of positive thinking," Frasier says. "What better way to do so than with a daily habit-building podcast just for children."
To fill the void of children's mindfulness programming and mainstream adolescent learning, ABF Creative's content development is very intentional. "We believe mental health is just as important for children as it is for adults," says Wanda Reynolds, ABF Creative's Chief Content Officer. That statement was held upon the launch of the original version of Charm Words. The acclaimed reception of the podcast prompted ABF Creative to double down by creating a culturally adapted version. Reynolds says, "Expanding Charm Words to the Spanish language will only increase access to these critical mental health tools, specifically to children of color."
While there is no shortage of children's programming, most of it is created for and by White, Middle-Class Americans. Lack of diversity can profoundly affect children of color and does not represent the world. "Spanish is the second most spoken language in the world, and Latine is the fastest growing group in the U.S. So, we knew we had to launch Charm Words Español to reach more children and parents," says Reynolds. According to Edison Research, 33% of U.S. Latinos say they have ever listened to a podcast mostly in Spanish, up from 24% in 2020. "With the growth of Latine podcast adaptation and consumption, launching Charm Words Español for the Hispanic community and other families of color is not just an opportunity, it feels like our duty," says Frasier.
With the hopes of reaching even more cultures and translating to more languages, ABF Creative will continue to spread Charm Words, Charm Words Español, and its other family-focused content to underserved families and children everywhere.
Charm Words is available now on Apple Podcasts, Spotify, Amazon Music, and all other podcast streaming platforms, with Charm Words Español available on those same platforms starting December 5th, 2022. To learn more about ABF Creative visit ABFCreative.com.
###
ABOUT ABF CREATIVE

ABF Creative is an award-winning kids & family podcast network and production company that Innovates and reimagines storytelling by creating audio content that is anchored in narrative and fosters cultural and emotional impact. The minds behind "African Folktales with Miss JoJo," "Raising The Game: The Untold Story of Jerry Lawson" and "The Adventures of Cairo," ABF Creative uses a proprietary podcast production framework to deliver world-class audio entertainment. ABF Creative partners include Ben & Jerry's, Wondery, Audible, Headspace, and Vox Communications.
Share article on social media or email: