By Nancy Jeanen –
It's time to stop and appreciate all that we have. We may count our many blessings, but our communities continue to come under attack from those who spread harmful and divisive rhetoric. You have rights that must be protected. We need to talk and listen and discover more of what we have in common and not what others use to divide us. Our hearts go out to family in Colorado Springs At the Golden Gate Business Association (GGBA), we continue to reach out to our members to be seen and heard in our community.
GGBA President Tony Archuleta-Perkins and I attended the National LGBT Chamber of Commerce (NGLCC) National Dinner in Washington, DC.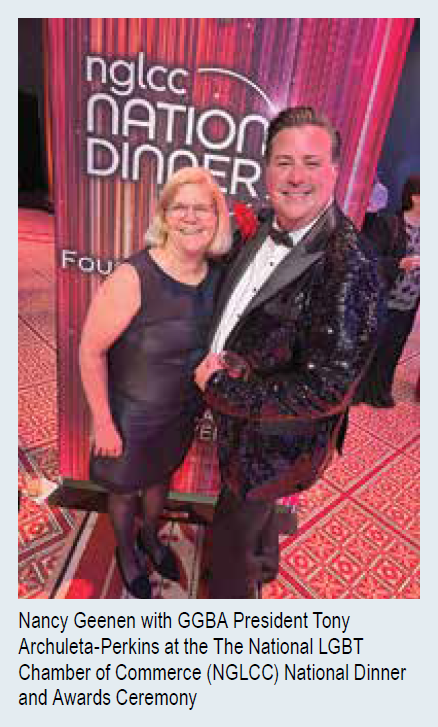 NBIC Unity Week is a celebration of diversity, opportunity, equity, and collaboration in partnership with the Women Impacting Public Policy (WIPP), Women Enterprise National Council, and other NBIC members. NBIC participants had access to exclusive programs focused on achieving economic success as a diverse supplier to private and government entities.
NBIC Unity Week will culminate with a National Dinner celebrating the best of the best companies who have excelled in promoting diversity and inclusion across segments. These Best of the Best Corporations are committed to supplier diversity, intersectionality and LGBT inclusion in the workplace. Tony and I have been in direct contact with the NGLCC leadership team to discuss programming events in 2023 and membership growth in the San Francisco Bay Area. We spent time with representatives from many of the best of the best companies including PepsiCo (who greeted us at the table), Johnson & Johnson, Wells Fargo Bank, WIPP, WBENC and many more.
As the holiday season continues and we move into 2023, let's focus on belonging, not others. Affiliation is accepted and participation is encouraged. Practice the platinum rule as opposed to the golden rule. Treat others the way they want to be treated. Choose empathy, not reciprocity. We all want and need our own prosperity. We all know what it feels like to belong. Please share that experience.
Nancy Geenen is a member of the GGBA Board and serves as the Association's Secretary and Partnership Chair. She is CEO of She Flexability, LLC, a workplace equity and inclusion consulting firm.
A message from the Gold Gate Business Association Leader
Published December 1, 2022