Mumbai's traffic police fined a total of 23,547 auto rickshaws and taxis in October. October's numbers beat his January to his June combined numbers this year.
Traffic police had warned of tougher measures after receiving multiple complaints about refusal tolls from commuters in October.
Of the 23,547 cases, 15,395 auto-rickshaws were fined Rs.50 each and 8,152 taxis were fined Rs.200 each. In September, 12,432 auto-rickshaws and taxis were fined. Between January and June this year, 13,340 auto-rickshaws and taxis were fined.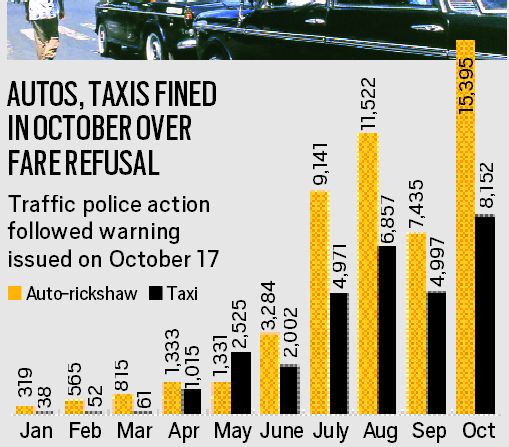 On Oct. 17, police (transport) co-commander-in-chief Rajvardhan Sinha said he would crack down on drivers who refuse passengers who want to travel short distances after a number of complaints from the public about auto-rickshaws and taxis. issued a press note with .
The traffic police also set up a bulletin board about the train station and bus stops outside this and contacted taxi and rickshaw unions to inform them of the order.