The automotive sector, which suffered from depleted inventories during the pandemic, is now dealing with a sales crisis.
Auto sales have softened this year due to inflation, weak consumer confidence and heightened economic concerns.
Rising interest rates are working against demand, despite the fact that supply chain bottlenecks have eased and cars have become more widely available.
Available U.S. car inventories rose by 160,000 to about 1.43 million at the end of September, the highest level since May last year, according to Bank of America.
However, many Americans cannot afford a new car at this time due to high borrowing rates and high gas prices.
Households have been under year-round pressure from four decades of high inflation, which has outpaced most wage growth.
Customers report new vehicle financing costs are much higher than they were in early 2022.
rising interest rates
The Federal Reserve's aggressive interest rate hikes to combat inflation had an even more negative impact on sales as the policy caused auto loan interest rates to skyrocket, adding to already rising vehicle prices. .
The central bank has raised interest rates from near zero to 3-3.25% since March.
In order to bring inflation down to the 2% target rate, Fed policymakers don't seem willing to cut interest rates until they reach 4.6% in 2023.
As a result, auto loan interest rates reached 7% at the end of September and are now rising 2% annually.
"Ironically for the auto market, the auto industry says that just as sales are starting to rise from supply-constrained, recession-like lows, rapid movements in interest rates are reducing demand. Blog post of October 7th.
On the other hand, the rate of increase in new car prices has slowed since the first half of the year after prices in the automotive sector rose to double digits.
Cox Automotive said it cut its forecast for new car sales for the year to 13.7 million from 14.4 million because of borrowing rates.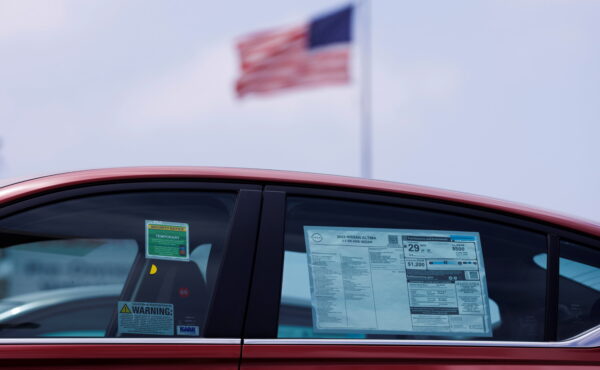 Many automakers are focusing on producing higher-priced luxury car models to make up for declining sales and offset profits.
Last month, the average purchase price of a new car rose 6.3%, or more than $45,000, CNBC reported, citing JD Power estimates.
According to Cox Automotive, rising new-car prices are driving more buyers to enter the used-car market.
The Mannheim Used Car Value Index, a car magazine that tracks the prices of used cars sold at wholesale auctions, fell about 13% by September after peaking in January.
Wholesale auction prices fell year-on-year in August for the first time since May 2020, at the height of the pandemic.
Used car prices have fallen, but have also been affected by rising interest rates, with loan rates in that category rising by 11%.
Automakers have the option of offering financing arrangements and discounts to offset costs, but have already made it clear they are unlikely to cut vehicle prices anytime soon, reports Cox Automotive. .