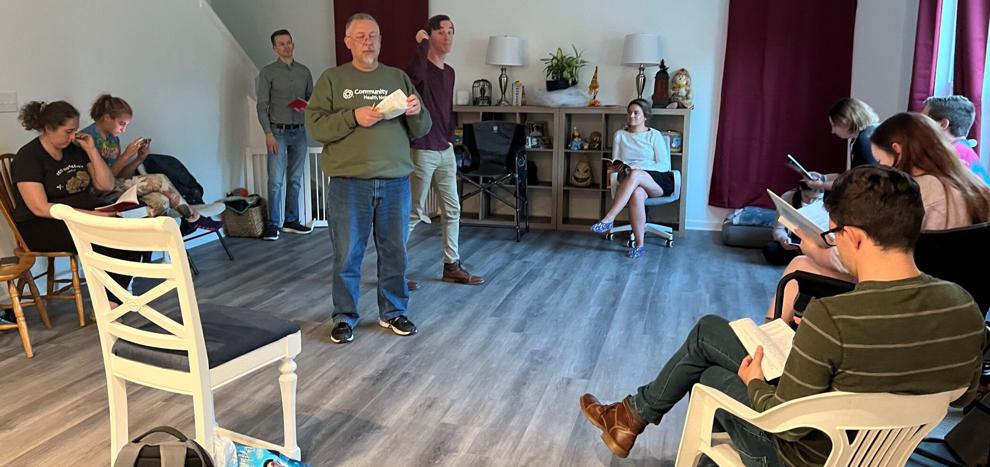 ELWOOD — The Duck Creek Center for the Arts puts a spin on Agatha Christie's classic story, Murder on the Orient Express, October 27-29, 7pm at the Ellwood Opera House. Tickets are $10.
The play follows a group of people who seem to come from completely different worlds but are somehow connected. murder.
This is Eric Bowman's second time directing. Bowman said he was reluctant to direct his first play, a version of Shakespeare's Much Ado About Nothing set in the 80s.
"Last summer, Bill[Smith]approached me about directing and I said, 'I don't know if I'm ready. Told. He said. "He (Smith) said that if he thought you weren't ready, I wouldn't have come to you and asked you. I think you can do it."
Bowman's positive decision came after a friend sent him a notebook with the word "director" on it. He wasn't sure if he wanted to direct again, but after seeing audiences enjoying the finished film, he said he was happy to do it again.
For the play, he said, the actors have been rehearsing several days a week for about a month now and are really on the move.
Detective Hercule Poirot, one of Christie's most famous characters, uses his keen powers of observation to discover what happened on the Orient Express. Poirot is played by Brian Nichols, with Ian Holm and more recently Kenneth Branagh.
"When you get a good mystery, it can have some funny scenes in it. Sometimes people find funny things that aren't really funny," he said. "It's just the whole aspect of trying to find out who the guilty party is based on the clues put forward throughout the play."
Murder mysteries can be fraught with misdirection. You think someone is guilty because they did something, but it really isn't. Bowman likes being able to add nuances to answer someone's guess.
Bill Smith, founder and chairman of the Duck Creek Center of the Arts, said he hopes to bring high-quality artistic and cultural opportunities to Elwood. He said studies show art can help economic development as it can attract businesses to the region.