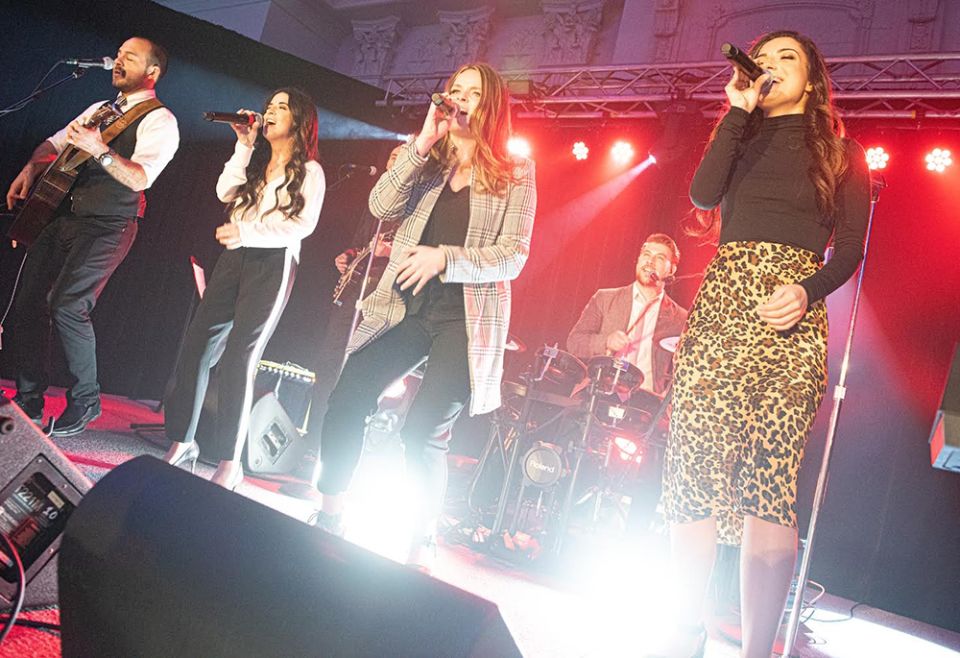 Musicians performing at the Array of Hope event. Front row from left to right: Dan Ferrari, Lauren Costabile, Brianne Nealon, Nicky Costabile. In the back row are Jack Garno on guitar and Jimmy Meyer on drums. (Courtesy of Array of Hope/Jeffrey Bruno)
A few months ago, I met Mario Costabile, Executive Director of Array of Hope for the first time. My producer gave me a quick rundown of successful film and music producers.
After reading about his 40 years of experience producing shows for MTV, Discovery Channel, Yamaha, Sony and more, I was a little nervous to meet and interview him. This may be an unpopular opinion, but I think it's perfectly reasonable that when an individual achieves a high level of success, that person makes a few demands of those around them. It can be tough on the team and new interviewers (me), but it's not half as hard as they are on themselves.
I went into the interview with a clear understanding of my role as "The Little Guy" and a determination to keep my head down and focused. To my surprise, I was immediately met with a smile and a handshake that never hinted at the world of differences between our stations in the world of media. He was popular not only with the camera crew and myself, but with everyone interviewed.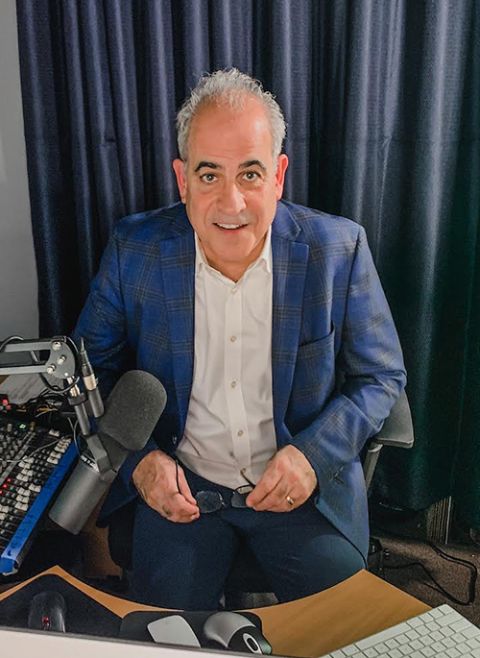 Mario Costabile (Courtesy of Array of Hope/Jeffrey Bruno)
So when the opportunity arose to interview Mario again about his ministry, Array of Hope, I jumped at the chance.
For this interview, Mario and I chatted via video. Mario spoke in his office in New Jersey, and I spoke on my couch in Boston. I asked him to start from the beginning, so he described his 2010 beginning of his ministry (a source for contemporary Christian music, film, and events).
"It was launched with the inspiration to try to evangelize like our evangelical brothers and sisters," Mario told me. "At the time, I was working with an evangelical band in Nashville. I've worked with many Christian artists and producers such as Casting Crowns, Chris Tomlin, Amy Grant, etc. I've been blown away by the quality of their work, and their way of communicating their faith in inspiring ways. It's ability."
I nodded when he explained that he draws inspiration from our Christian brothers and sisters. I asked him if he thought inspiration alone was what prompted him to leave his 40-year successful secular career.
"I succeeded," he said. "I had a great career, marriage, and children, but I still felt longed for. I realize that you have prepared me for this in my career, God has taken my time, working with my heart and I am not really ready to start until I am in my 50s. I didn't."
Imagine? His 40-year career, marked by the kind of media success anyone could have dreamed of, was far from just beginning for him.
In 2010, Mario felt a call to use his gifts to serve the church.
"I started Array of Hope, which quickly started doing multimedia concerts in gymnasiums and then grew into university auditoriums and small theatres," says Mario. "Although the inspiration was evangelical in nature, the events we produce are deeply Catholic. It is a wide-ranging concert experience featuring a rich cinematic presentation.A counterweight to the negative media surrounding today's society.It especially celebrates the appreciation of family.A key theme of the show is the importance of God in the family and what loving and supportive prayers can bring to our and our children's mental and emotional development… this is the perfect family event."
And as his ministry grew, Array of Hope only delved deeper into its unique Catholic identity.
This will be clearly demonstrated in the upcoming "Behold" event. The series includes live music, multimedia and talks that draw people to Christ through worship. The three-night series will work in tandem with the National Eucharistic Revival, centered around different themes: "Ecclesiastical Eucharist and Healing", "Ecclesiastical Respect and Awe", and "Ecclesiastical Communion and Communion".
As Mario describes how Array of Hope balances the subtlety of worship with the intense effect of live performance, I ask him how ministry balances beauty and entertainment. I asked if I was taking it to
"I think entertainment is the key to engaging a curious audience," said Mario. "Array of Hope has always been about bringing people to places that are safe, fun and interesting, and sprinkle the teachings of the Church into that environment. after that We reveal beauty. A lot of it happens through Witnesses. We partner with the Holy Spirit. We can only take them so far, and then the spirit takes over.
Jack Garno, Array of Hope's director of audio and music production, furthered Mario's opinion, saying that the conversion that comes from this ministry is not only external, but internal as well.
"I grew up a cradle Catholic," said Jack. "I was even an altar minister, but I distanced myself after the church trauma."
Years later, Jack met Mario and started playing guitar with Array of Hope. He noticed that everyone in the ministry seemed to glow with joy and love and asked himself, "What do these people have that I don't have?"
Jack's involvement in making evangelistic music brought him back to the faith himself. These days, he meets with his band twice a week and writes songs about gospel. As he puts it so beautifully, "the truth that God is love."
Enter your email address to receive a free newsletter from NCR.