Key events
According to a report by Harriet Line and Jason Groves in the Daily Mail, Liz Truss is determined not to uprate benefits in line with inflation, despite MPs from all wings of the party demanding this. They write:
The Daily Mail understands she remains determined to press ahead with uprating benefits in line with earnings. Sources indicated disability support may increase in line with inflation, but the PM continues to believe it would be unfair for most claimants to receive a bigger uplift than workers whose taxes fund their payments.

The Institute for Fiscal Studies said the move would cut state spending by around £7bn – because earnings are growing at 5.5 per cent, compared with inflation at around 10 per cent. One insider warned that if Miss Truss was forced into another U-turn, the rebels would be emboldened further still. 'We've got to win this because our opponents are playing whack-a-mole,' they said.

'If we give way they will just move on to the next thing.'
And these are from the BBC's Brussels correspondent, Jessica Parker.
Truss says European Political Community must not become 'EU alternative'
Liz Truss was originally sceptical about the UK getting involved in the European Political Community. But she has put aside her doubts and, in an article in the Times, today she says she decided to go to Prague because "it is right that we find common cause with our European friends and allies", particularly on security, energy and migration.
But she also says the new body must not become "an EU alternative". She says:
Today's meeting is not an EU construct or an EU alternative. I am very clear about that. It brings together governments from across Europe, around a third of whom are outside the EU. A post-Brexit Britain, as an independent country outside the EU, should be involved in discussions that affect the entire continent and all of us here at home. We are taking part as an independent sovereign nation, and we will act as one.
In a long analysis, my colleague Jennifer Rankin says there is a limit to what might be achieved today in terms of a reset for UK relations with the EU. Here's an extract.
Truss remains the leader of one of the largest non-EU countries at the Prague meeting and the UK has won credit in Brussels as a strong supporter of Ukraine's president, Volodymyr Zelenskiy, who will address the gathering via a video link. Truss will be one of four non-EU leaders to speak at the opening plenary, along with Zelenskiy and the prime ministers of Norway and Albania. One EU diplomat said it was welcome that Truss would meet her EU counterparts out of "the shadow of Brexit", expressing the hope that "maybe it will mend those wounds that have been created on both sides because of Brexit".

Nobody, however, expects the gathering to resolve deep and lingering post-Brexit conflicts. "The EPC cannot be a substitute for the natural course of exchanges between the EU and Great Britain on issues directly related to the post-Brexit difficulties," Vimont said. "But it's a nice political platform where people can talk to each other, and that can always be useful."

The Prague summit is just one more positive wind acting on EU-UK relations. Antagonism over the contested Northern Ireland bill has been paused as the legislation makes slow progress in the House of Lords, a timetable that both EU and British diplomats think creates a positive space to revive talks. Also easing tensions, the arch Brexiter Steve Baker, now a junior minister for Northern Ireland, apologised to the EU and Ireland for his behaviour during the Brexit negotiations. Ireland's taoiseach, Micheál Martin, said his comments were "honest" and "very helpful".

But clouds remain on the horizon. Fabian Zuleeg, who leads the European Policy Centre thinktank in Brussels, said any suggestion the Prague summit could lead to a reset in EU-UK relations was "overburdening" one day of diplomacy in the Czech capital.
And here is the full article.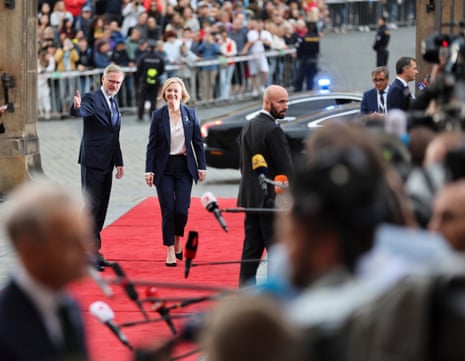 In his interview with LBC Jake Berry, the Tory chairman, was asked if he was channelling When Harry Met Sally when he described Liz Truss as the "Yes, yes, yes prime minister" in his speech to the conference yesterday. (Robert Hutton is very funny about this, and much else, in his sketch for the Critic.) Berry said he was referring to Yes, Minister and Yes, Prime Minister when he delivered that line.
In the same interview, Berry revealed that his joke-making has not improved since yesterday. Talking about the conference in general, Berry said:
I think colleagues saw yesterday that when the going gets tough, the Truss gets going.
Tory chair Jake Berry says he was being 'bit clumsy' when he said people could get better job to pay energy bills
Jake Berry, the Conservative party chairman, said he was being "a bit clumsy" when he gave an interview at the Tory conference saying people struggling to pay their energy bills could get a better-paid job. Asked about the comment on Times Radio this morning, Berry said:
I do think my language was a bit clumsy in that regard and I regret it.

The point I was making … is that the government needs to go for growth to ensure that it can grow the economy and Britain can get a pay rise. You don't have to tell me how hard people graft in this economy. I know how hard people work.
In another interview, Berry said the government could not yet decide whether to raise benefits in line with inflation for next year because it does not yet have the inflation figure for September, which is the figure by which benefits are normally uprated annually. He said:
We've got to wait until those figures are available … You simply cannot make a decision on figures you do not currently have.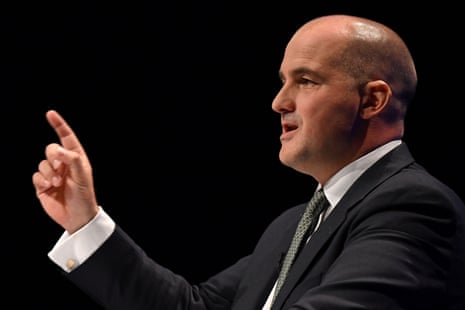 Average five-year mortgage rate hits 6%
The average interest rate on a five-year, fixed-rate mortgage has passed 6%, my colleague Graeme Wearden reports on his business live blog. Graeme says:
Across all deposit sizes, two-year and five-year fixed rates now both stand at more than 6% on average, according to Moneyfacts.co.uk.

The average five-year fixed-rate mortgage rose to 6.02% this morning, Moneyfacts said, having crept up from 5.97% on Wednesday.

The last time average five-year fixed-rate mortgages were at 6% was in February 2010, when the typical rate was 6.00%.
There is more on this on the business blog here.
In his interviews this morning Keir Starmer refused to say that he supporters workers like nurses getting pay rises in line with inflation. Asked if he was in favour of that, he replied:
I think that's a question for each of the negotiations, exactly where it lands. But my job as leader of the Labour party is to make sure we get a Labour government so we can fix the underlying problems.
But Starmer said he did want to see benefits for 2023-34 rise in line with inflation, as is normal practice. Asked why he was committed to benefits, but not pay, rising in line with inflation, he said that was "because the government directly controls benefits and the others are negotiated with the different bodies".
As my colleague Denis Campbell reports, for the first time in its history the Royal College of Nursing (RCN) is balloting its members on strike action over pay.
UK banks to raise mortgage market fears in Kwarteng meeting
High street bank bosses will tell the chancellor, Kwasi Kwarteng, that they have growing concerns over the state of the UK's mortgage market when they gather at Number 11 Downing Street today, my colleague Kalyeena Makortoff reports.
Labour claims some people's mortgage payments could rise by £500 per month due to 'kamikaze politics' of mini-budget
The Labour party claims that some people with mortgages could have to pay £500 more per month as a result of the way mortgage rates have risen since the mini-budget last month. In a news release explaining the figure, the party says even thought the government has abandoned its plan to abolish the 45% top rate of tax, "mortgage rates are still likely to top five or even six per cent." It goes on:
An average buyer taking out a two-year fixed mortgage in the third quarter of 2020 faced an interest rate of about 1.6 per cent and monthly repayments of £1,057 a month. Should interest rates reach five per cent, those repayments would increase to £1,432. They would top £1,550 if interest rates hit six per cent.
In interviews with BBC local radio stations this morning, Keir Starmer said some people with mortgages were having to pay more as a direct result of the "kamikaze politics" of the mini-budget. He said:
If [people with mortgages are] not on a fixed rate, of course they're paying more as a direct result of the kamikaze politics of two weeks ago. That is just not fair.
Starmer also ridiculed Liz Truss's claim in her conference speech yesterday that Labour was part of an "anti-growth coalition". He said:
For heaven's sake. The enemies of growth? She's just passed a kamikaze mini-budget which has lost control of the economy, is putting hundreds of pounds on people's mortgage bills, that is the absolute opposite of a plan for growth.

She's … not just anti-growth, she's the destroyer of growth.
The government has stressed that interest rates are going up around the world and it has suggested that these global factors, rather than the mini-budget, are mainly responsible for mortgage rates going up in the UK.
But the unfunded tax cuts in the budget did raise expectations of how high the Bank of England would have to raise interest rates, which has driven up the rates offered by mortgage providers.
Truss arrives in Prague for first meeting of European Political Community
Liz Truss and her official delegation made its way through Prague this morning as she headed to the first meeting of the European Political Community, PA Media reports. PA says:
The prime minister, fresh from domestic turmoil and a difficult Conservative party conference, will attend the summit of European leaders – spearheaded by the French president, Emmanuel Macron – with hopes of making progress on issues such as energy and migration, all amid the backdrop of the war in Ukraine.

Truss's plane touched down mid-morning, before she was ferried into Prague for a meeting with Czech prime minister, Petr Fiala.

Later, the prime minister will hold bilateral meetings with Mr Macron and her Dutch counterpart Mark Rutte.

She is the first UK prime minister to visit the city since David Cameron in January 2016.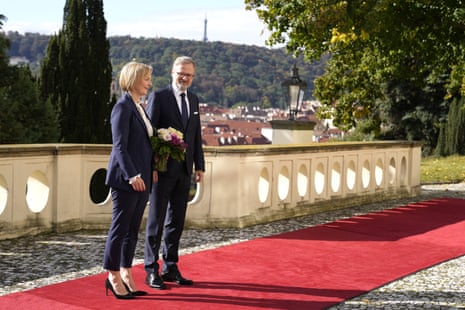 Rating agency Fitch downgrades UK credit outlook
Rating agency Fitch lowered the outlook for its credit rating for British government debt to "negative" from "stable" on Wednesday, citing risks posed by the measures announced in the chancellor's mini-budget. The full story is here.
Dorries calls for benefits to be uprated in line with inflation
In her interview with the Times Nadine Dorries, the Tory former culture secretary, also called for benefits to be uprated in line with inflation for 2023-24. She said:
Boris Johnson's government was clear that benefits should rise with inflation – this must be right. If it rises in line with wages that will mean a real-term cut for millions of people at a time when global costs are rising due to a pandemic and Putin's war. It would be cruel, unjust and fundamentally unconservative.
Tory infighting continues as Nadine Dorries accuses Truss of 'lurching to the right
Good morning. The Conservative party conference is over, but the reality TV drama, The Tories, ploughs on and, in a sign of quite how fractious and dysfunctional the party has become, Nadine Dorries has accused Liz Truss of "lurching to the right". That's the former culture secretary Nadine Dorries who at one point was one of Truss's main supporters in the Tory leadership contest, and who for most of her parliamentary career was seen as way to the right of most of her colleagues in the party.
Dorries made her comments in an interview with the Times, where they form the top of the lead story, taking precedence of its report on Truss's first speech to a Tory conference as leader and prime minister.
Arguing that Truss had made some "big mistakes'" since becoming PM, Dorries said that the new government should not be abandoning the policies that voters supported when they elected Boris Johnson in 2019. Dorries said:
I understand that we need to rocket-booster growth, but you don't do that by throwing the baby out with the bathwater. You don't win elections by lurching to the right and deserting the centre ground for Keir Starmer to place his flag on.

If we continue down this path, we absolutely will be facing a Stephen Harper-type wipeout. I'm sure she's listened and will stop and rethink.
(Dorries is citing the wrong Canadian election. It was Kim Campbell's Progressive Consevatives who suffered a wipeout in 1993, not Stephen Harper's Conservatives, who were defeated in 2015.)
Dorries, of course, is the uber Johnson loyalist, and so it is possible that her comments may be influenced as much by a desire for his return as by a commitment to centre ground politics. But after a conference in which Brexiters fell out with fellow Brexiters, and a Tory libertarian PM outraged her Tory libertarian allies, the Dorries interview is fresh evidence of how the old alliances in the party are collapsing.
Jake Berry, the Conservative party chair, has been giving interviews this morning. He told Times Radio he disagreed with Dorries. He said:
What I would say to Nadine is to look really carefully at the prime minister's speech. I think she set out a vision that is something that every Conservative MP, former minister or not, can get behind.

I also think she spoke to every British household because her desire to create growth is about ensuring that Britain gets on and every British household gets on.
I will post more from Berry's interviews shortly.
Parliament is not sitting today, and Truss herself is in Prague, where she is attending the first meeting of the European Political Community in Prague. She is not holding a press conference, but she is expected to record a clip for broadcasters in the afternoon.
I try to monitor the comments below the line (BTL) but it is impossible to read them all. If you have a direct question, do include "Andrew" in it somewhere and I'm more likely to find it. I do try to answer questions, and if they are of general interest, I will post the question and reply above the line (ATL), although I can't promise to do this for everyone.
If you want to attract my attention quickly, it is probably better to use Twitter. I'm on @AndrewSparrow.
Alternatively, you can email me at andrew.sparrow@theguardian.com