news | | feature | | preview | | event
Courtesy of Spotlight Central, Photo courtesy of Love Imagery
First Published: October 2, 2022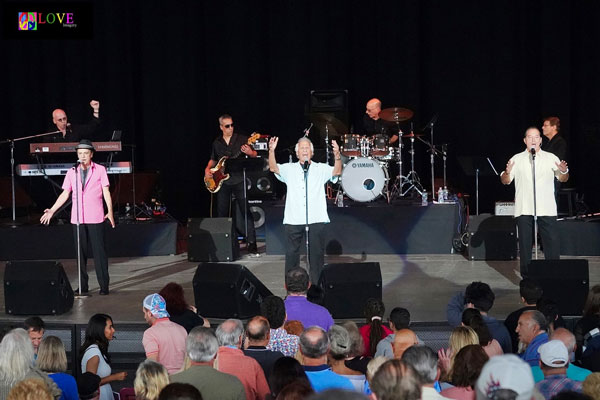 Music lovers are gearing up for an afternoon concert by legendary singer and producer Jay Siegel and his Token on Tuesday, September 20, 2022 in Holmdel, New Jersey.
At a free event presented by the Garden State Arts Foundation, VP Ron Gravino welcomes the audience by joking, "Today is Staten Island Day at the PNC Bank Arts Center!" A cheer goes up from a group of students sitting in front of an open-air amphitheater and a crowd of mostly elderly people.
After thanking sponsors for the TODAY show, Gravino joined saxophonist Mary Beth Ryan Mastropaolo, keyboardist Dennis Dibritzi, guitarist Joe D'Angelis, bassist Paul Page, and drummer Pete Mastropaulo. Introducing Vinnie Medugno on stage with The Coda Band featuring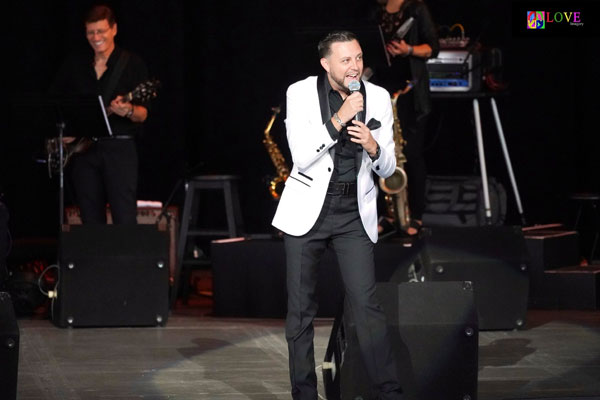 Applauding the audience to Andy Williams' "More," Medugno sings, "More than the greatest love the world has ever known," mesmerizing the audience with his warm baritone and charming demeanor, "Today Are you ready for a great show at
The crowd answers in the affirmative and Medugo shouts "PNC, make some noise!" Adding his three-part harmonies to Medugo's bouncy rendition of Lou Christie's "I'm Gonna Make You Mine" backing up his vocalist trio Chiclet (Diana Carroll, Susan Marten, Sarah Tracy) I'd like to introduce_______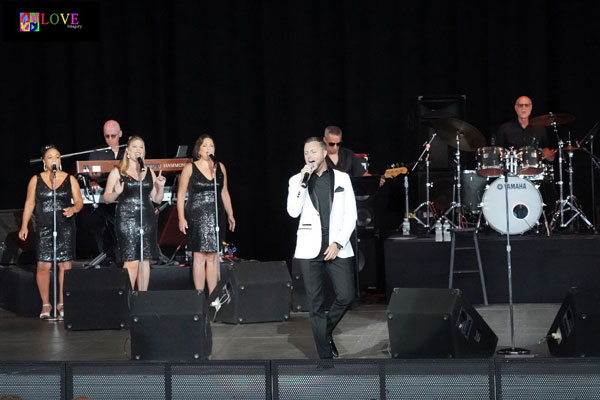 Click here to advertise on the New Jersey stage for $50-$100 per month.
---
"My school is here today!" exclaims Medugno, a singer and radio DJ as well as a high school media studies teacher. Before entering the "silhouette" arrangement of Herman's Hermits.
Holding out the microphone for the audience to sing along to the catchy "Took a walk and pass your house/Late last night" lyrics, Medugno engages students here to learn first-hand about live entertainment and musical performance.
Medugno explains to the students that they will hear "good music" today, describing it as "music that was cool when most of the audience today was in high school".
Following "Volare," an homage to singer Bobby Rydell, Medugno begins his interpretation of one of his set's highlight numbers, Gene Pitney's "The Town Without Pity." He recently performed on TJ Lubinski's his PBS television show. Doo Wop, Pop, Soul Generations.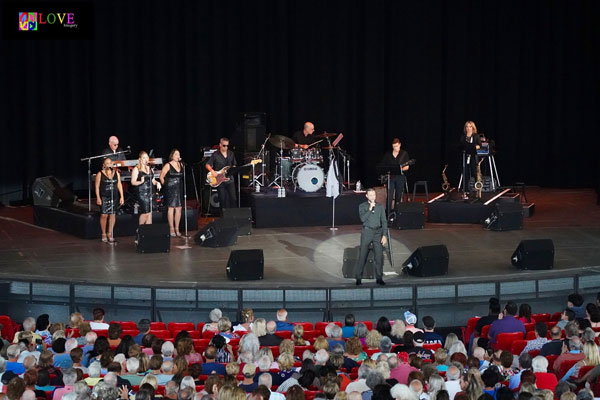 As Mary Beth Ryan-Mastropaolo wails the saxophone and the Chiclet family sings haunting background lines, Medugno follows an emotional performance of Gene Pitney's ballad "I'm Gonna Be Strong," It will elicit cheers from the music lovers in the crowd.
Following a performance of Paul Anka's 'Tonight, My Love Tonight' and a vocal duet on Anka's 'I Believe There's Nothing Stronger Than Our Love' with Chiclet's Deanna Carroll, Medugno performed the next selection, 'Il ' in both English and Italian. mondo. Dedicating the song to couples in the audience celebrating her 53rd wedding anniversary, Medugo serenades the pair dancing in the aisle to the music.
Dedicating his next selection, Buddy Holly's "True Love Ways," to GSAF Vice President Ron Gravino, Medugno will perform his mother's favorite song, the Rogers and Hart classic "Falling in Love with Love."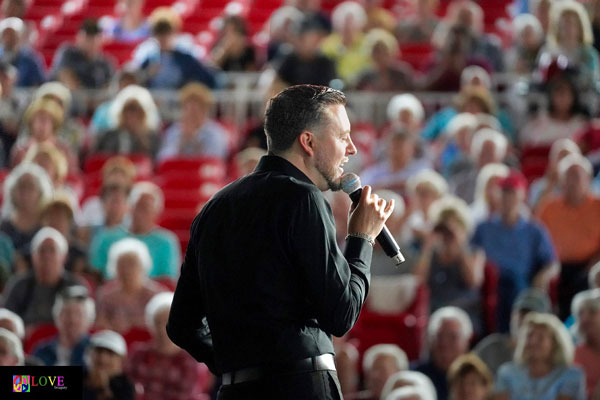 A powerful and emotional rendition of Elvis Presley's "Heart" has the audience standing, while Medugno descends into the audience to sing, dance and roar in the glittering performance of Arches' "Sugar Sugar." shake hands with fans in
Music lovers continue to stroll through the PNC Bank amphitheater, waving hello to fans as they happily sing along to Dion's "Runaround Sue" with Medugno. Back on stage, he dances with saxophonist Mary Beth Ryan Mastropaolo.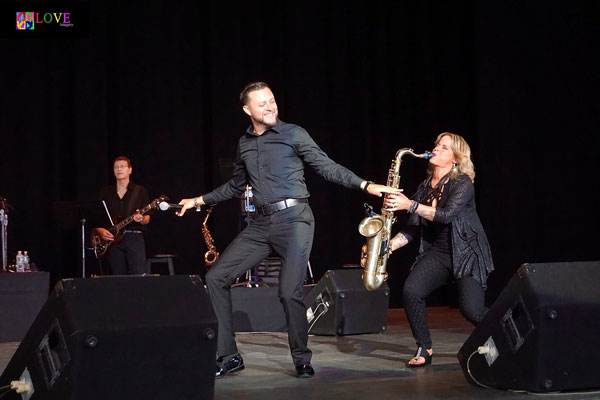 Music lovers cheer when Medugno sings his signature song, "Cara Mia." The song was originally recorded by Jay and the Americans. The audience gave a standing ovation as they performed powerfully with full voice using falsetto.
Medugno closes out the set with an uptempo rendition of Sam Cooke's "Twistin' the Night Away."
"Give it up for The Coda Band and The Chiclet!" announces Medugno as he walks off the stage amid enthusiastic cheers and applause.
Click here to advertise on the New Jersey stage for $50-$100 per month.
---
During a short break, I spoke with the students of Medugno this afternoon about their teacher's performance.
Staten Island's Gabriella said of Medugno: "He's always walking around singing in the school hallways." character is exactly the same as it was in school."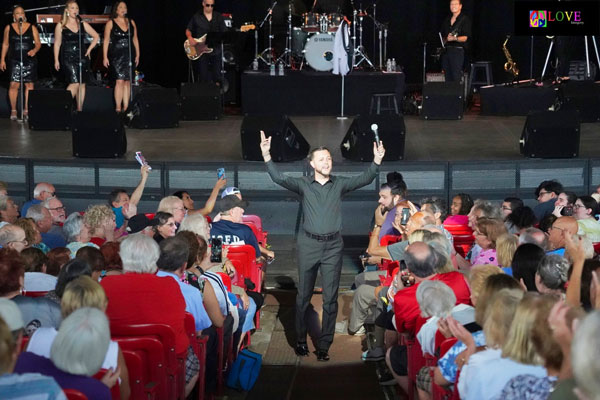 Of Medugno, Staten Island's Frank said: He teaches us that if we work hard, we can get anywhere," before admitting, "I was really surprised by his singing today. I actually heard him sing like that. It is not!"
Finally, chatting with Brandon from Staten Island, who calls Medugno "the best teacher in the world," exclaimed, "He was amazing today. I was blown away!" "I've seen clips of him performing on video, but the live experience is on a whole other level," concludes Brandon. He was a great singer too.
After a break, Medugo returns to the stage to introduce the Jay Siegel tokens — Jay Siegel, Kurt "French" Yahian, and Gabe Dassa — who will be on stage accompanied by the Coda Band.
The audience applauds to Token's 1961 hit, "Tonight I Fell in Love." Music lovers await "Dom, doobie dom, woo-woo, doobie, doobie" before Jay Siegels' trademark falsetto blares with the lyric "Tonight, tonight I fell in love." increase.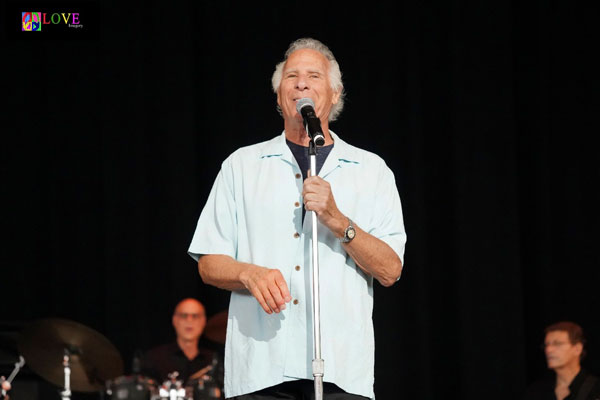 Siegel, 82, squats down with style and ease, melting away the many years of a crowd who fell in love again with the music of their youth.
Siegel talks about the "B-side" of "Tonight I Fell in Love" before he and the group perform "I'll Always Love You." On this song, the rich, lush harmonies of his stage mates rise above the audience, accompanied by Siegel's clear falsetto voice.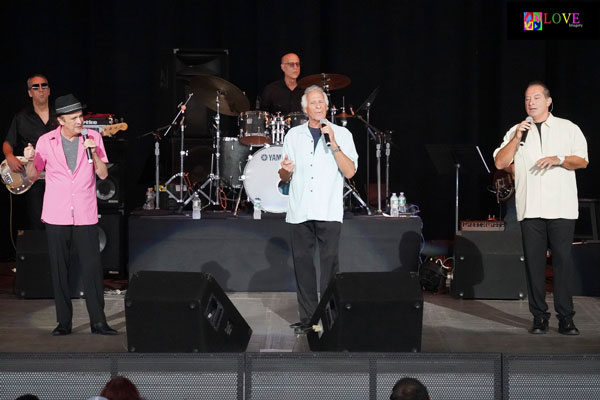 After joking, "I'm doing a new song I recorded in 1967!" Siegel prepares to sing one of the most beloved The Tokens recordings of the time. His music director, Dennis Debrizzi, walked off stage with his iPad and reminded Siegel of the name of The She's Tokens song, "Portrait of My Love."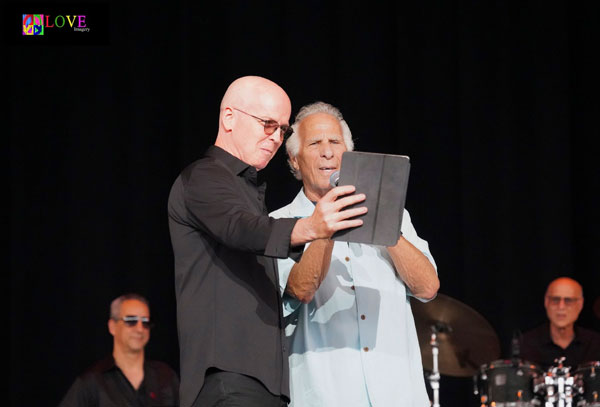 Singing "There could never be/A Portrait of my love/For," Siegel and his tokens provide a rendition of the record copy of the group's 1967 Top 40 hit. , resulting in enthusiastic cheers and applause from the audience.
Kurt "Frenchy" Yahian is featured in a trio interpretation of "My Girl" by The Temptations. His soulful vocals wow concertgoers, and Siegel gets everyone singing with the song's "Hey, hey, hey" lyrics. The group will follow up with two of his hits, "See You in September" by The Happenings and "One Fine Day" by The Chiffons, for which Jay Siegel worked as his producer on the record.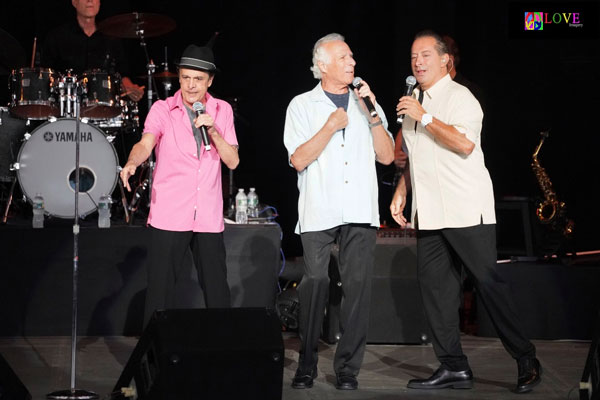 Siegel introduced the group's newest member, Gabe Dassa, while The Tokens performed "Silhouette" by The Rays, "Earth Angel" by The Penguin, "You Send Me" by Sam Cooke, Robert and Johnny's "We Belong Together", and Johnny and Joe's "Over the Mountain, Across the Sea". The crowd responded with rapturous cheers and applause as Don and Juan closed out with 'What's Your Name'.
Mary Beth Ryan Mastropaolo plays a hilarious saxophone solo as the group sings Dion's "The Wanderer."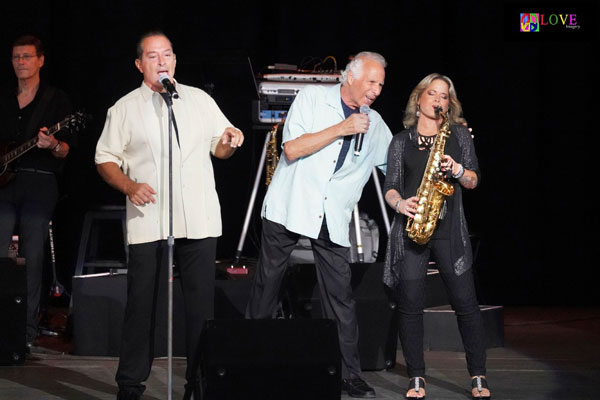 Siegel introduces the rest of the coda band of Dennis Dibrizzi on keyboards, Joe DeAngelis on guitar, Paul Page on bass, and Pete Mastropaulo on drums, followed by all the veterans and tokens that Siegel dedicates to them. begins the song "Please Light". family.
After Siegel recounts growing up in Brooklyn and singing on the beach with his high school friends, he and Token thrill the audience with an immortal rendition of the group's biggest hit, "The Lion Sleeps Tonight." In their extended live version, music lovers tapped their feet throughout his PNC Bank Arts Center and sang along, with Siegel and Token waving goodbye and codas leaving the stage to the sound of his band. increase.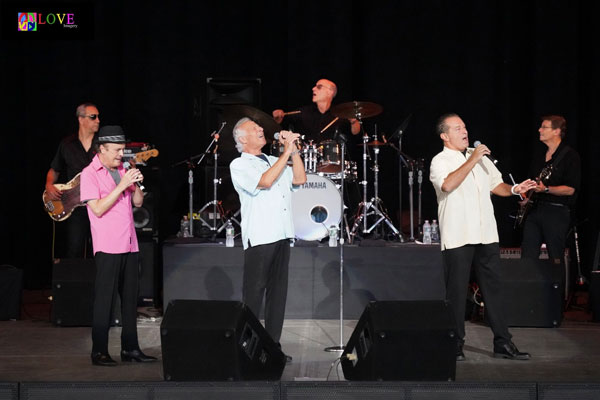 As the audience queued up from the amphitheater, we chatted with a few music lovers in the crowd and shared their thoughts on today's show. Caroline of Manalapan said: Originally from Brooklyn, her husband, Bob, revealed, "I was in the same class as Jay Siegel in high school," adding, "I loved his performance and I loved Vinnie Medugno!" rice field.
Sharon of Marlboro declares: "Jay Siegel is a great performer. He has a great voice and personality and I loved listening to 'Portrait of My Love' which was my wedding song!" also has a special gift! He's a great singer and performer and really knows how to move a crowd."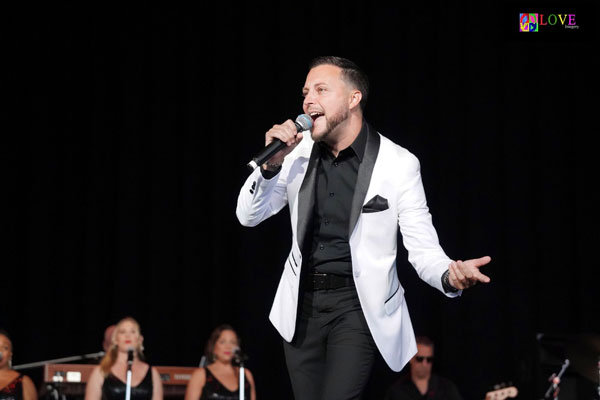 Judy of Mullica Hill calls today's event "One of the best shows I've seen here. Great voice!" Mullica Hill's Ross said: "
Stephen of Rockland County, New York called Jay Siegel's performance this afternoon "Fantastic!" added, "The crowd just loved him!" "I liked all the songs today, but 'The Lion Sleeps Tonight' was my favorite," reveals his young son, Ben. It was spot on!" explained.
Finally, we chatted with Jay Siegel himself as we exited the PNC Bank Arts Center. As much fun as the audience! "I can't explain the emotion we get from crowds," Siegel concludes by declaring: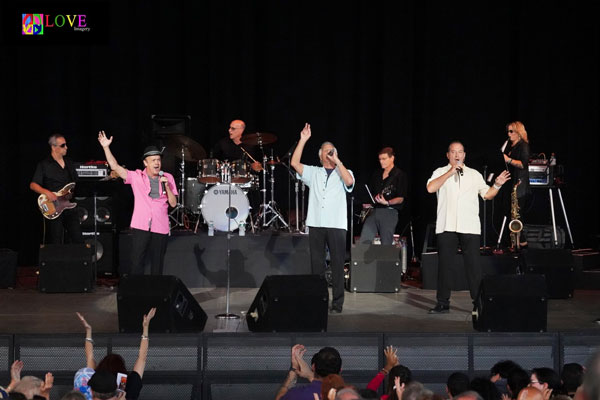 For more information on Jay Siegel's Tokens, please click jaysiegelstokens.com. For more information about Vinnie Medugno, please visit vincentmedugno.com. For information on upcoming Garden State Arts Foundation concerts at the PNC Bank Arts Center, please contact Musinavigate at gsafoundation.org.
Photo by Love Imagery
spotlight centralYour Source for Jersey Entertainment News and Reviews
image of love fine art photography. everything you need.peace/love/flower/power