Chris Kennedy, a 2018 and 2020 Louisiana Tech alumnus and graduate of the university's Liberal Arts College, made several appearances across the state this fall, becoming one of tech's most beloved figures. I will publish a book about the late coach Joe Islet, one of the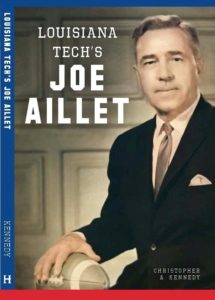 Louisiana Tech's Joe Islett is published by The History Press and available at most online and in-store bookstores, or at one of our upcoming events this fall.
Thursday, September 29, Claiborne Parish Library (Homer), 6:00 pm: Kennedy will give a presentation and book signing.
Friday, September 30, Lincoln Parish Museum, 7:00 PM: Presentations, book signings.
Saturday, October 8, Louisiana Orphan Train Museum (Opelousas), 10:00 am to 2:00 pm: Presentations and book signings.
Friday and Saturday, October 21-22, Tech Homecoming: TBD time and location.
Saturday, October 29th, Louisiana Book Festival, Baton Rouge, Kennedy is featured author.
Tech's football stadium is named after Aillet, Tech Athletics and the Louisiana Sports Hall of Fame. This is where a young Kennedy would run around, watch games, and roll down the hills that used to be in the South End Zone.
"I can't remember not knowing the name 'Joe Islet,'" said the 25-year-old Kennedy. "But I knew nothing about him."
he is doing it now Kennedy, the son of technical dean Dr. Gary Kennedy, a boy who grew up in the shadow of stadiums, and a librarian who loves words and reading, a few months ago called a "legendary mystery." I started chasing stuff and wrote about it: This book is like a love letter to Kennedy's hometown and his one of its legends.
Kennedy, now studying for his second graduate degree and working at the Louisiana State Archives in Baton Rouge, has written nearly 1,000 articles and 50 interviews, in addition to his personal history. Using the information, he described the big picture as an "extraordinary coach and humble scholar." Its "off-field biography rivals his sideline career."
"He was the best man in sports in my life." Shreveport Journal At the end of Aie's career, she worked as a student worker in the university's sports information room. "He was… a teacher who chose athletics as his specialty, but he would have excelled in any endeavor. Those of us who were at Tech during his 30 years of leadership, I was very blessed, he was a "smooth man".