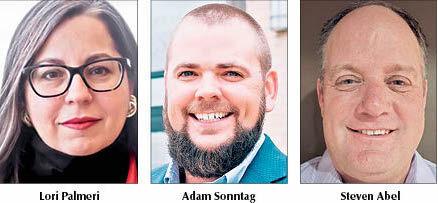 A panel of three local government officials, "Local Politics: Challenges and Opportunities," will be held at Ripon College on Wednesday, September 28th.
The program begins at 6:30 PM at the Clesge Little Theater in the East Hall. It is presented by the Center for Politics and People and is open to the public free of charge.
Panel discussions will cover issues related to economic development, housing and budget issues, as well as how current approaches are working.
This discussion explores how issues are approached, the similarities and differences between cities and counties that decision makers find most responsive, and how elected, appointed, or employed officials exercise discretion in governing. It also reveals how much you feel about
Panelists are:
— Lori Palmeri, Mayor of Oshkosh Mr. Palmeri served two terms on the Oshkosh City Council and is currently serving his second term as mayor. He holds a Bachelor's degree in Urban and Regional Studies from the University of Wisconsin-Oshkosh and a Master's degree in Urban Planning from the University of Milwaukee.
She currently serves as Commissioner of the East Central Regional Planning Commission, Chair of the Oshkosh Redevelopment Authority, and Liaison to the Parks Advisory Board and Bike and Pedestrian Commission.
Palmeri has served on various commissions and commissions in the community and in northeastern Wisconsin. She is a co-founder of the Neighborhood Association and has taken leadership roles in the creation of other Neighborhood Associations since 2011. She has resided in Oshkosh since 2008.
— Adam Sonntag, Ripon City Administrator From 2011 to 2021, he served as city administrator for the City of Hillsboro, Wisconsin before assuming his current position in Ripon.
He has also served as Regional Director of the Wisconsin City/County Administrative Association and has served as a member of the Wisconsin Municipal Lobby League, the Monroe/Vernon/Crawford Growth Fund Board, the Hillsboro Library Board, and the Hillsboro Lions Club.
He majored in history at Ripon College, and minors majored in English and Education. He holds a master's degree in public administration from Minnesota State University, Mankato.
— Stephen Abel, Chairman of the Fond du Lac County Supervisory Board. He is co-owner of Abel Dairy Farms, his sixth-generation family farm in Eden, Wisconsin. He has been on the prefectural board of directors for over ten years. He has also served on the University of Wisconsin's Extended Education Board, Agriculture Board, and Recreation Board.
The moderator is Henrik Schatzinger, Professor of Political Science and Co-Director of the Center for Politics and People.