NEWS | FEATURES | PREVIEWS | EVENTS
originally published: 03/10/2022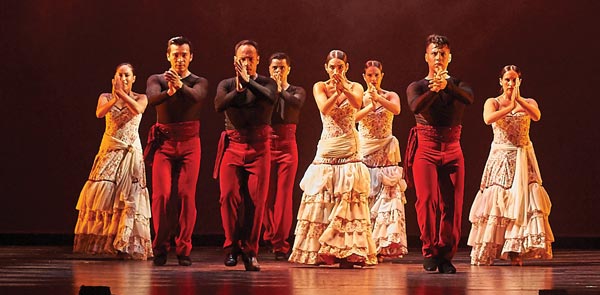 (WAYNE, NJ) — Ensemble Español Spanish Dance Theater, in residence at Northeastern Illinois University, returns to William Paterson University's Shea Center for the Performing Arts on Saturday, March 26, 2022 at 8:00pm. This performance is part of the University's WP Presents! series. Now celebrating its 46th anniversary season, the Chicago-based International Ensemble Español has been hailed for its grand theatricality, precision-tooled technique, and flamenco-based fire" (Hedy Weiss of Chicago Tonight).
"We're proud to be featured at William Paterson University's 2022 WP Presents! Series," says Irma Suarez Ruiz, Ensemble Español Artistic Director. "For 46 years the company has been creating Spanish dance and performing as Chicago's International Cultural Treasure and ambassador. Our return to William Paterson University is an ideal way to celebrate this achievement with the community at large." 
"I am thrilled that William Paterson will once again welcome Ensemble Español  to the Shea Center," said William Paterson University President Richard J. Helldobler. "I was fortunate to encounter this renowned dance troupe during my tenure at Northeastern Illinois University, where they have long been in residence, and their 2018 performance at the Shea Center was a performing arts highlight of my first semester as president of WP. I know that our audience of campus and regional community members will truly enjoy their performance of the many rich dance and music traditions of Spain."  
The program for March 26, 2022 engagement will open with the critically acclaimed "Danza del Fuego" (Dance of the Fire) (1979) choreographed by the Ensemble's founder, Dame Libby Komaiko, to the music of Ruiz de Luna in the Neo-Clasical (Flamenco and Classical) styles. The program also features the Flamenco full company work "No Me Olvides" (Do Not Forget Me) (2008) by artistic director, Irma Suarez Ruiz along with her full company classical work, "Baile de Luis Alonso" (Dance of Luis Alonso) to the music of Geronimo Gimenez. Other highlights of this program include "Al Golpe" (To the Beat) and "Ritmo de la Tierra" (Rhythm of the Earth) choreographed by Nino de los Reyes, the first dancer to ever win a Grammy. 
Other program works include "Horizonte" (2018) choreographed and performed by Company dancer Monica Saucedo; "Entre Dos Almas" (Between Two Souls) (1998), choreographed and performed by Ruiz and Perez and Solares (2018) Flamenco contemporary work, choreographed by Carlos Rodriguez and performed by Company dancer, Luis Beltran.
Advertise with New Jersey Stage for $50-$100 per month, click here for info
---
Musical guest artists performing in the program include Flamenco singer/guitarist Paco Fonta (Jaen/Miami); singer, guitarist and percussionist José Moreno (Madrid, Malaga, New York); Flamenco guitarist David Chiriboga (Ecuador/Chicago).
Tickets are $25 for the Orchestra section and $20 for the Loge section.  Tickets are available for purchase online. William Paterson University is implementing current COVID-19 safety protocols at each show. You can learn more about our safety protocols here. For tickets or more information, please visit wp-presents.org or call the box office at 973.720.2371. The box office is open Monday- Friday from 10:00am- 5:00pm, and Wednesdays from 11:00am- 6:00pm.
Ensemble Español, is a not-for-profit arts organization. As with many artists and arts organizations around the world, the impact of the COVID-19 virus is creating a significant financial challenge for the company. Ensemble Español welcomes donations to help sustain the company during this time.
Ensemble Español, founded in 1976 by artistic director Dame Libby Komaiko, is the premiere Spanish dance company and center in the U.S. with a professional and unique residency at Northeastern Illinois University, Chicago. Under the artistic direction of Irma Suarez Ruiz and executive leadership of Jorge Perez, company successors, the Ensemble continues its mission of preservation, presentation and promotion of Spanish dance and culture which also includes the exploration of the country's history in the; Flamenco, Folkloric, Classical and Escuela Bolera styles and identifies its influence on Latin American art and dance in both traditional and contemporary formats. They forge ahead as the leaders in Spanish dance and culture with a commitment to our communities, via performances, education, school residencies, academic university programs, festivals and tours. They remain committed to their roots in education and mission of educational, artistic, and social development. Their incredibly rich history includes; serving over 30,000 students annually, training over 90 company dancers, training over 160 Youth Company dancers from ages 12 to 18, over 90 international guest artists and musicians from Spain and the Americas, over 2,600 scholarships awarded to talented aspiring dancers, musicians and educators, tours and residencies of U.S., including Hawaii, Mexico, Puerto Rico, Costa Rica, Poland, Australia, Canada, China and Spain.