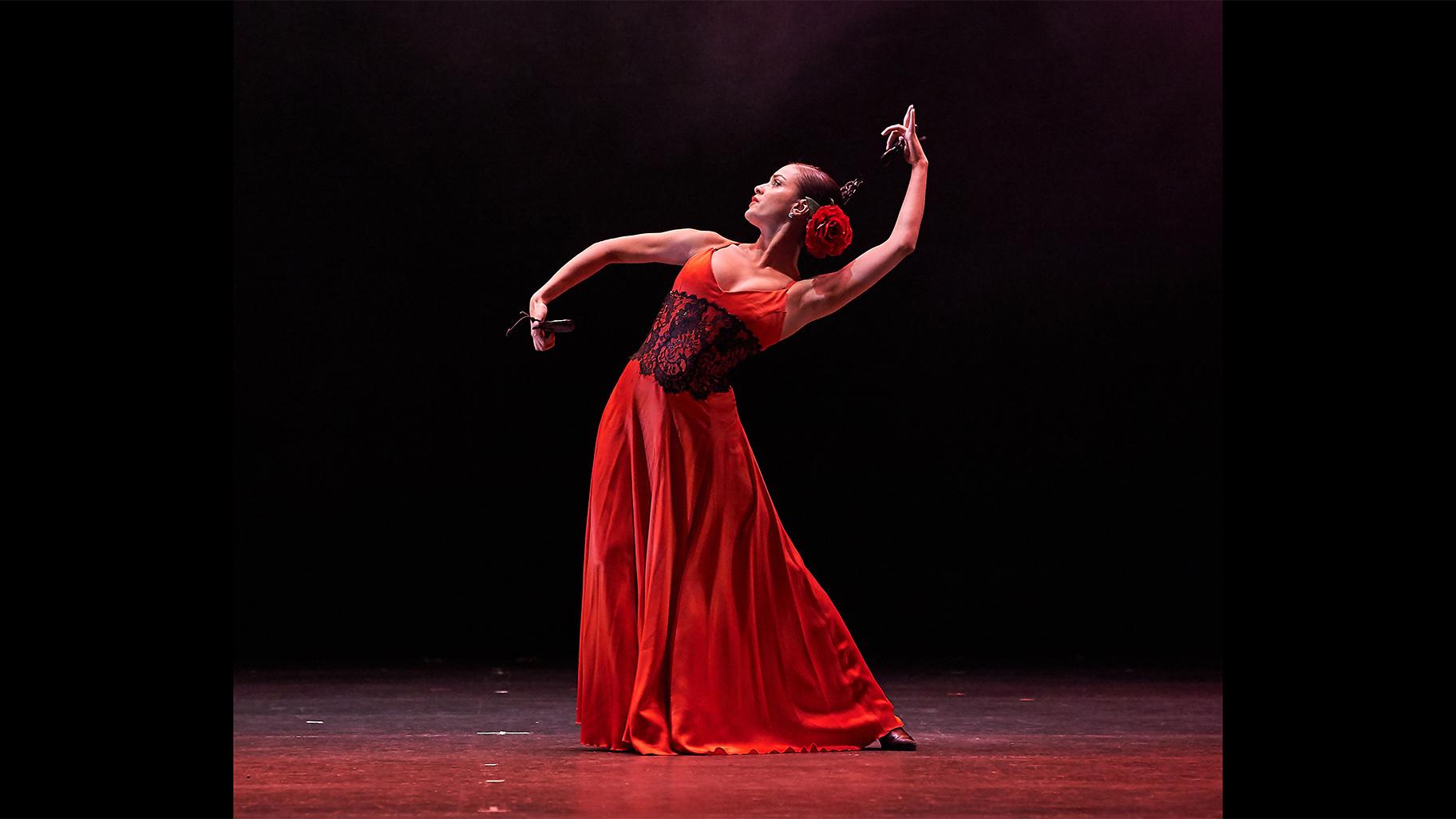 "Horizonte," choreographed and performed by Monica Saucedo. (Credit Dean Paul)

It was an evening of multiple celebrations Saturday as Chicago's Ensemble Español Spanish dance company arrived on the stage of the Auditorium Theatre in full regalia to mark the return of live performance in the landmark hall following its pandemic shutdown.
Also being heralded was the 45th anniversary season finale of this company that was founded and nourished by the late Dame Libby Komaiko and has long been in residence at Northeastern Illinois University.
The company's elaborate, grand-scale performance also marked the return of two of the Auditorium's most vitally important programming traditions – both its "Made in Chicago" and "International" dance series.
The program began with a brief video that captured the efforts made to keep Ensemble Español – led by Irma Suarez Ruiz and Jorge Perez – at the highest possible level throughout the pandemic. The performances that followed demonstrated just how successful those efforts turned out to be, with choreographer Wendy Clinard's sensual 2021 piece, "Tangos de Granada," setting the tone. Elegant dancers, beautifully lit by Dustin Derry and accompanied by powerhouse flamenco singer Jose Moreno and a superb ensemble of musicians, captured the work's allure and ferocity.
Next came the renowned guest artist Nino de los Reyes, a sensational dancer and choreographer, in his solo work, "Farruca." The title evokes a Spanish Roma dance characterized by sudden shifts in mood and tempo. Reyes' steely, rapid-fire legwork and stomping feet were a sensational precision-tooled percussive showcase, with accompaniment by Moreno, as well as guitarists Paco Fonta and David Chiriboga and percussionist Javier Saume-Mazzei.  Reyes' second act solo, a world premiere, was "Lo Que Los Ojos No Ven (What the Eyes Don't See)." With its uncanny, seemingly motorized moves, its tempestuous force and its sheer test of endurance, it was equally brilliant.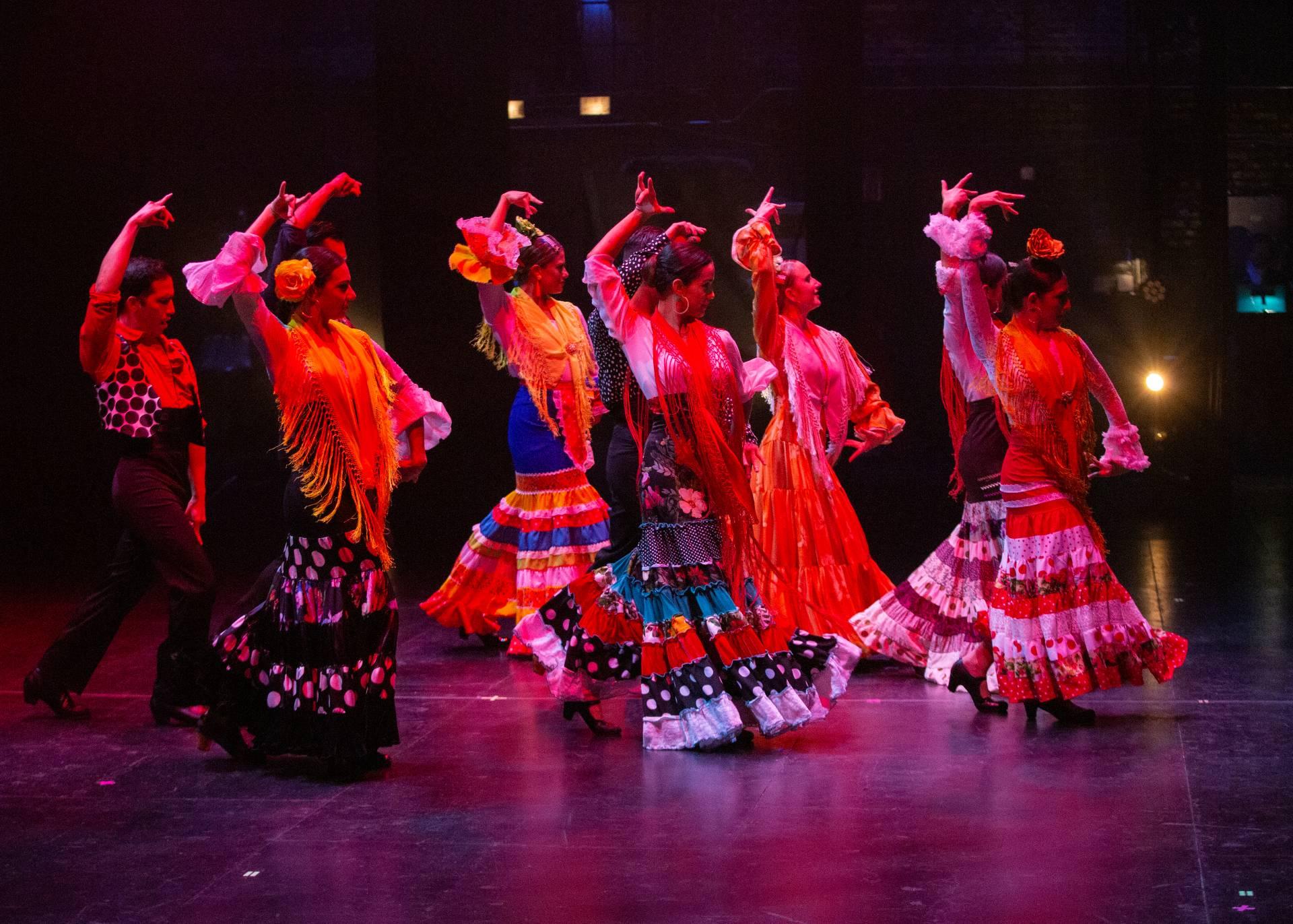 Ensemble Español Company Dancers (Photo by Casey Mitchell)

A shift in mood came with "Viva Galicia," a swirling, high-spirited folkloric piece for a large ensemble decked out in authentic leafy-green costumes by Nana Lorca. It was followed by a neo-classical solo, "Horizonte (Horizontal)," set to music by the Spanish composer Ernesto Halffter and choreographed and performed by Monica Saucedo, an exquisitely beautiful dancer, costumed in a sleek red dress with a lacey black inset and her castanets at the ready. A dancer of unique elegance, grace and precision, Saucedo has been an essential part of Ensemble Español since 1999, and she dedicated this work, created in 2018, to the memory of her mentor, company founder Komaiko.
"Sevilla," a wonderful musical interlude, followed, with classical guitarist Brian Torosian teaming up with Ruiz on castanets for a rhythmic, almost conversational take on a section of composer Isaac Albeniz's 1885 "Suite Espanola." (The Albeniz piece was originally written for piano, but Komaiko composed the castanet composition.)
Closing the first half of the program was Madrid-based choreographer Angel Rojas' "DeFalla, Fuera de la Caja (DeFalla, Out of the Box)," a playful, richly theatrical piece created in 2017 that freely puts a contemporary, somewhat absurdist riff on a 1919 ballet created by Leonide Massine and designed by Pablo Picasso. Two great racks of spectacular flamenco costumes are lowered from and raised to the rafters as the dancers try to figure out exactly where they are and what they should be doing.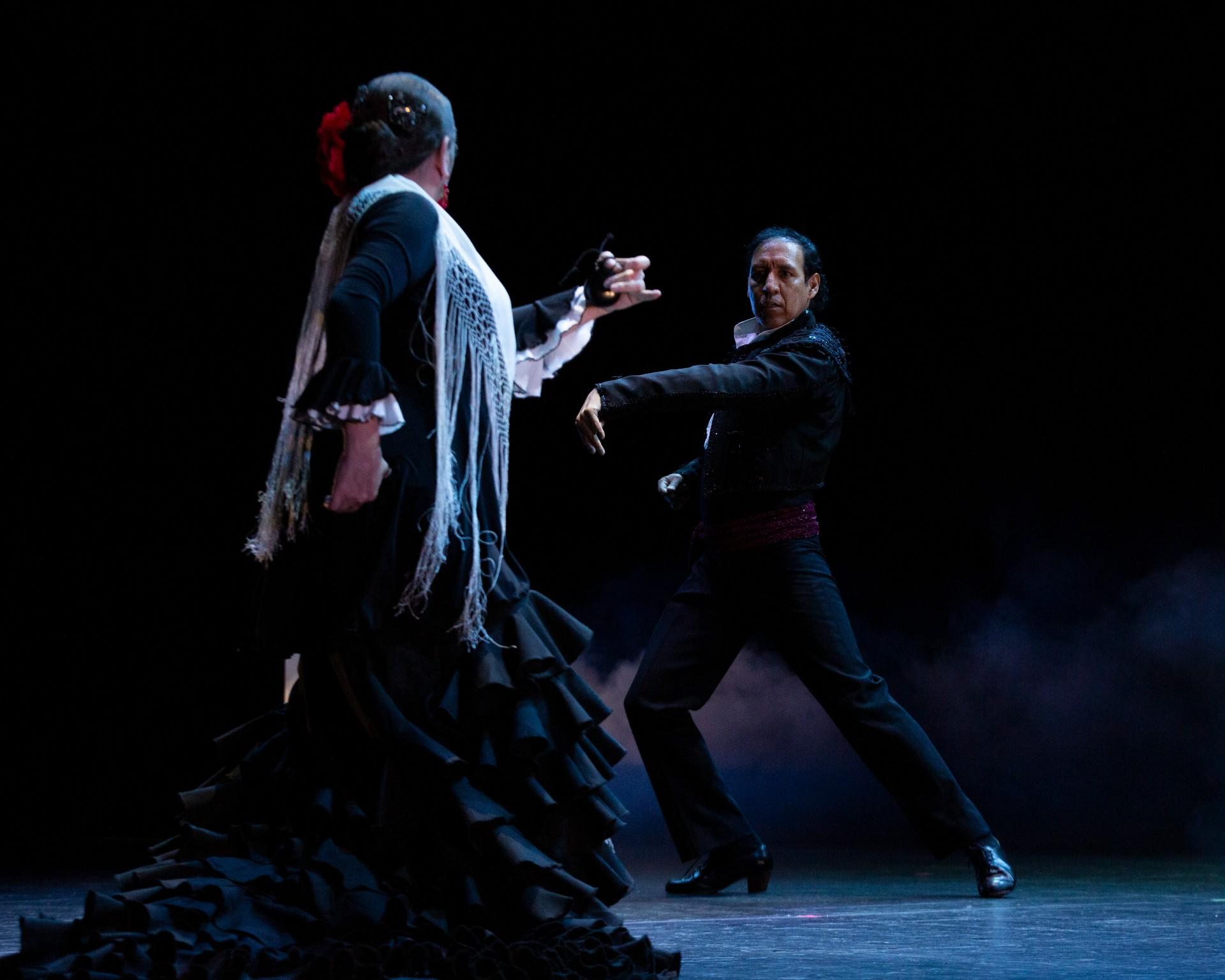 Ensemble Español Artistic Director Irma Suarez Ruiz (left) and Ensemble Español Associate Artistic Director and Executive Director Jorge Perez in "Engre Dos Almas," choreographed by Ruiz and Perez. (Photo by Casey Mitchell)

Opening the program's second half was Ruiz's moody, seductive "Pasion Oculta (Hidden Passion)," set to the music of Escala, an all-female electric string quartet, and enhanced by Derry's lighting. The excellent dancers included Jose Torres, Olivia Serrano, Monica Saucedo, Juan Carlos Castellon, Amanda Saucedo, Frida Medina, Luis Beltran, Jonathan Pacheco, Samantha Micklewright and Matt Jalac.
It was followed by several other strong musical and choreographic works. And of course, for the program's grand finale there was a rousing performance of "Bolero," Komaiko's masterful signature piece for the full company. Set to Ravel's ever seductive, grandly repetitive "Bolero," this is a work that never fails to feel like pure magic with its dreamy opening marked by the gradual awakening of a group of women in red dresses, its giant projections of Picasso paintings, and its build to a climactic swirl of wide-open fans and giant capes. Ole, ole, ole!
Follow Hedy Weiss on Twitter: @HedyWeissCritic
---